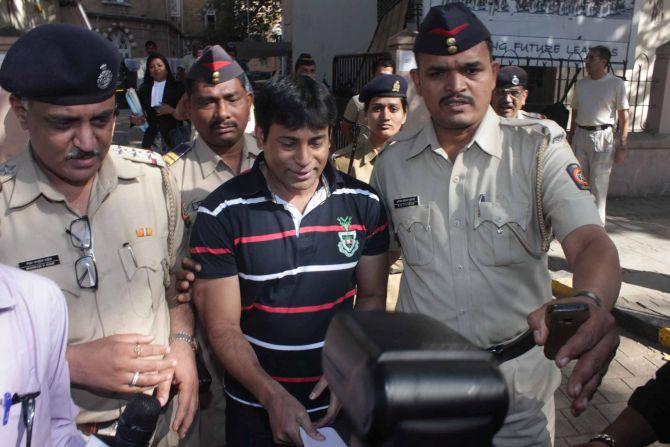 A Mumbai court on Thursday awarded death sentence to Tahir Merchant and Firoz Abdul Rashid Khan and life imprisonment to extradited gangster Abu Salem in the 1993 serial blasts case.
Besides Salem, the court also sentenced Karimullah Khan to life imprisonment in the case while awarding 10 years' sentence to the fifth convict, Riyaz Siddiqui.
A special Terrorist and Disruptive Activities (Prevention) Act court had in June convicted six persons, including mastermind Mustafa Dossa and Salem, in the serial blasts case, 24 years after the attacks left 257 people dead in the country's financial capital.
It, however, let off accused Abdul Quayyum, for want of evidence. This was the second leg of the trial.
All the seven accused were facing multiple charges which included criminal conspiracy, waging war against the government of India and murder.
The court, in its June 16 ruling convicting six accused, held that the prosecution had proved that Salem was one of the main conspirators, and he delivered three AK-56 rifles, ammunition and hand grenades to actor Sanjay Dutt (convicted under the Arms Act in the earlier phase of the trial).
Salem, who was close to (absconding accused Dawood Ibrahim's brother) Anees Ibrahim and Dossa, took upon of himself to bring a part of arms and ammunition from Dighi to Mumbai, the court had said.
This was 'vital towards achievement of the conspiracy so that the weapons could be used to terrorise and torment innocent citizens of India', the court had said.
The trial of Abu Salem, Mustafa Dossa, Karimullah Khan, Firoz Abdul Rashid Khan, Riyaz Siddiqui, Tahir Merchant and Abdul Quayyum was separated from the main case as they were arrested subsequently.
Dossa died of cardiac arrest at J J Hospital in Mumbai, shortly after being convicted, on June 28.
The court had held that Tahir Merchant was amongst the main conspirators.
He worked with (absconding conspirator) Tiger Memon, participated in several conspiracy meetings in Dubai. Tahir made travel arrangements, financed the stay and travel of several co-accused and facilitated their training in Pakistan, the court noted.
"The role of Tahir in conspiracy is prominent. He is one of the initiators of the conspiracy," the court said in its ruling on June 16.
The court had rejected Firoz's defence that he was not Firoz Khan but one 'Hamza.'
The prosecution proved that he was a prominent and 'trusted' member of the Dossa gang, and participated in all the 'landings' of weapons effected by Dossa brothers in Raigad district, the court had held.
Firoz was present for negotiations with customs officers for smooth landing of arms and ammunition. He, with 'vengeful perseverance in his sinew with a view to carry the blueprint of the plan into reality spearheaded the pre-landing arrangements', said the verdict of June 16, The prosecution proved that he was one of the main
conspirators, the court had held.