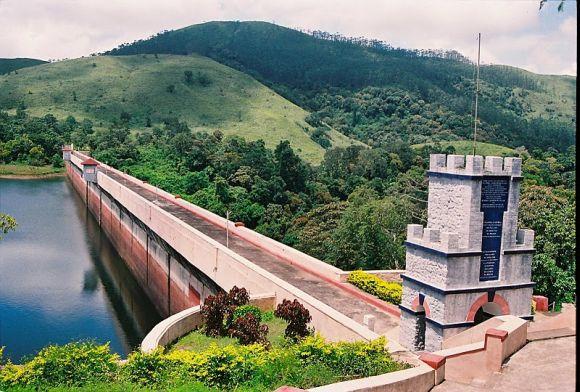 Water level in the Mullaperiyar dam is threatening to cross the permissible limit of 142 feet, leading to fears about the safety of the people living downstream from it in Kerala even as six spillway shutters were opened on Monday night to release excess water.
The water level in the dam in Idukki district touched 141.8 feet on Monday afternoon, district administration sources said.
Arrangements have been made to relocate people living in downstream areas of the dam to safer places in case the need so arises.
Earlier in the day, considering the urgency of the situation, Kerala Chief Minister Oommen Chandy shot off a letter to his Tamil Nadu counterpart J Jayalalithaa asking her to issue strict directions to her officials to start at once the discharge of water in a "controlled manner" and to increase withdrawal to the Vaigai reservoir in that state.
"The Kerala government is extremely concerned about the potential danger to people living in downstream areas of the Mullaperiyar dam by a sudden, emergent opening of spillway gates as also the submergence of forest land with wild animals.
"We reiterate that it is most dangerous to wait till the water level reaches 142 feet for the operation of spillway gates considering the meagre storage space and consequent danger to the downstream people," he stated.
Revenue Minister Adoor Prakash said that the Idukki district administration has been given directions to take the necessary steps for the rehabilitation of families mainly from Vallakadavu to Vandiperiyar who will be affected immediately due to the discharge of water.
Around 229 families from Vellakadavu, Upputhura and Ayyappankovil have been identified and three shelters have been set up, the minister told PTI. Instructions have been given for setting up more shelters if necessary, he added.
To coordinate the functioning of various departments, deputy collector, chief forest officer, Idukki, along with the tehsildar have been asked to coordinate on the work of various departments, including revenue, Kerala State Electricity Board, fire and rescue and forests.
A control room has already been opened at Vallakadavu towards that end, he said.
The government on Monday informed the state assembly that Chandy will take up the state's concerns with Prime Minister Narendra Modi during his scheduled visit to Delhi later this week.
File photo of Mullaperiyar dam