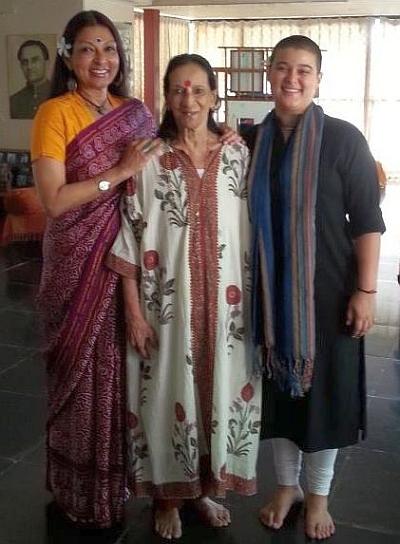 Renowned classical dancer and Padma Bhushan recipient Mrinalini Sarabhai, who was wife of father of India's space programme Dr Vikram Sarabhai, passed away on Thursday due to old age-related problems. She was 97.
Mrinalini Sarabhai was admitted to an Ahmedabad-based hospital on Wednesday, but was brought to her home early Thursday morning where she breathed her last.
"My mother Mirnalini Sarabhai has just left for her eternal dance," her daughter and noted dancer Mallika Sarabhai said in a Facebook post announcing her death.
"She had been admitted in the hospital a day before. She had developed an infection and her systems had given way. She was brought to her home in Usmanpura, but passed away in the morning today at 10:10 am. My mother had a long and peaceful life," said Kartikeya Sarabhai, her son and a noted environmentalist and director of Ahmedabad-based Centre for Environment Education).
Born into the renowned Swaminadhan family of Chennai with roots in Kerala, Sarabhai, an exponent of classical dance forms of Bharatanatyam and Kathakali, was awarded Padma Bhushan and Padma Shree, apart from various other awards for her contribution to the field of dance.
She had studied under the guidance of Rabindranath Tagore at Shantiniketan. After a brief stint with American Academy of Dramatic Arts, Sarabhai returned to India and began training in Bharatanatyam.
Popularly known as 'Amma', she had established Darpana Academy of Performing Arts here in 1948. Over 18,000 students have graduated from the academy in Bharatanatyam and Kathakali.
She married physicist Vikram Sarabhai, the Father of India's space programme, in 1942.
She is survived by son Kartikeya Sarabhai, founder of Centre of Environment Education (CEE), and daughter Mallika Sarabhai, who is an activist and classical dancer.
The last rites of the danseuse will be held at a farmhouse owned by the family in Pethapur village in Gandhinagar. A funeral procession will be taken from the Darpana Dance Academy at Usmanpura at 3pm and the last rites will be performed in the evening around 5:15pm, said Kartikeya.
Photograph, courtesy Mallika's Facebook page, alongside shows the three generations of the Sarabhai family at their home in Ahmedabad.