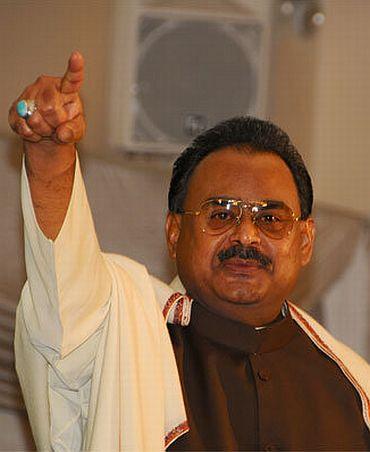 The founder and chief of Pakistan's Muttahida Qaumi Movement, under fire for allegedly receiving funds from India, has swore that neither he, nor his party had any connection with India's external intelligence agency RAW.
"I swear upon God that neither MQM nor I have any connection with RAW (Research and Analysis Wing)," said the party's London-based chief Altaf Hussain, addressing supporters via telephone at Lal Qila ground in Karachi.
"I don't know how anyone can even think that MQM would have connections with RAW. Our forefathers sacrificed everything for the creation of Pakistan," he said.
Hussain said his party would be the first to stand up and fight "if RAW tried to destabilise Pakistan."
"We would fight alongside the army against Indians," he added.
"Those who are enemies of Pakistan they are enemies of MQM," he said.
Hussain said the MQM is a political party and if ever there is proof against any worker of criminal or subversive activities the party could only expel him.
"I have myself asked the coordination committee to investigate if they were any individuals in our party who may have received training in India, if yes, then inform the party," he said.
Addressing party workers, the MQM supremo said that some people are pushing for an 'MQM minus Altaf' formula. "A lot of work is being done on that (formula)," he said.
He alleged that broadcast of his speeches have been banned.
"But our party has withstood such trying times before and we will again show everyone that we are among the most patriotic of political parties," he said.
A BBC report had alleged that MQM, which has a strong base in Karachi, received funds from India to foment trouble in the country.
The BBC had reported that investigators in the UK had conducted recorded "interviews with senior MQM officials who told them the party was receiving Indian funding".
The UK authorities started investigating the MQM in 2010 when a senior party leader, Imran Farooq, was stabbed to death outside his home in north London.
However, MQM and India have described the report as "completely baseless". MQM termed it a part of media trial to weaken its political base in the country.