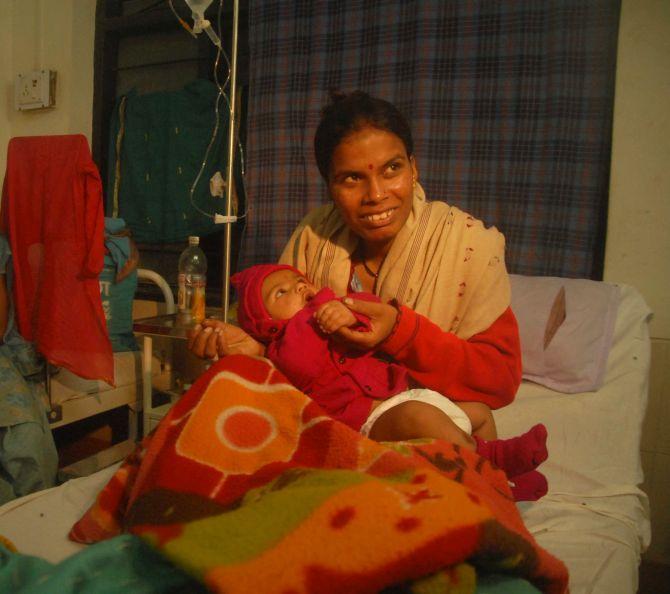 Devidas Desphande brings forth the story of a miraculous survival of a young mother who endured pain for 24 hours to save her three-month-old son under the rubble of the massive landslide in Pune district.
A young mother, in her early twenties, and her three-month-old baby defied all doubts that none would emerge out of the mass of mud and stones in the Malin village in Pune district.
The mother-son duo was rescued from under a heap of wet soil, tin slab and mud on Thursday and was brought to the Sub District Hospital in Manchar.
Also Read: Pune landslide toll rises to 51, hopes of finding survivors fade
After over 24 hours, hopes were getting bleaker that anybody would be found alive under the debris in what was once the Malin village. However, the members of National Disaster Relief Force recovered Pramila Lembe and her toddler son Rudra.
They are being treated at the hospital in Manchar where Pramila's mother-in-law Tanubai Lembe is already admitted.
Tanubai said, "On that fateful Wednesday, my daughter-in-law was feeding milk to her baby. All of a sudden, I heard a big noise and I thought there was a lightening. Before I could think of anything else, a mass of dirty water and mud came over us."
Pramila and her son were trapped under a heap of tin slab and mud. She sustained herself for over 24 hours and covered her son with all her might.
Dr Ganesh Pawar, who is treating all the injured survivors at the hospital in Manchar, said, "Pramila endured her pain and saved her child. She has sustained injuries in the back and the baby has sustained some scratches. They were first taken to a nearby village but were later brought to the hospital when she experienced pain."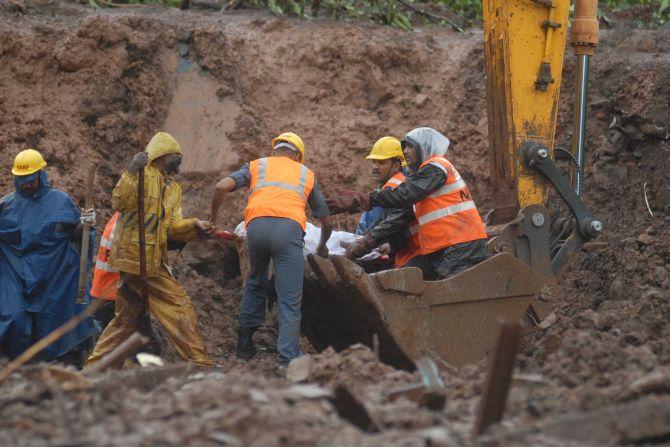 When asked whether Tanubai was happy over her grandson's miraculous escape, she said, "Yes, I feel happy. After all, we do whatever we can for our children. But though it is my and my daughter-in-law's good fortune that Rudra was saved, I lost my four brothers and daughter in this tragedy. We have lost everything."
Meanwhile, 18 of the 43 recovered bodies were given mass cremation in the Malin village. The bodies were identified by the head of the village and then the relatives were asked to ignite the pyre.
Alok Avasthi, head of the National Disaster Relief Force in Pune, said, "We can get over the rescue work in 48 hours to 72 hours. But the rain and weather is playing truant. If the same weather persists, it may take one week also".
Image: Rudra in the arms of his mother Pramila at the hospital in Manchar. (Below) NDRF personnel continue to hunt for people in the debris at the site of the landslide.
Photos: Nitin Lawate