'There were few injury marks, (so) no stampede.'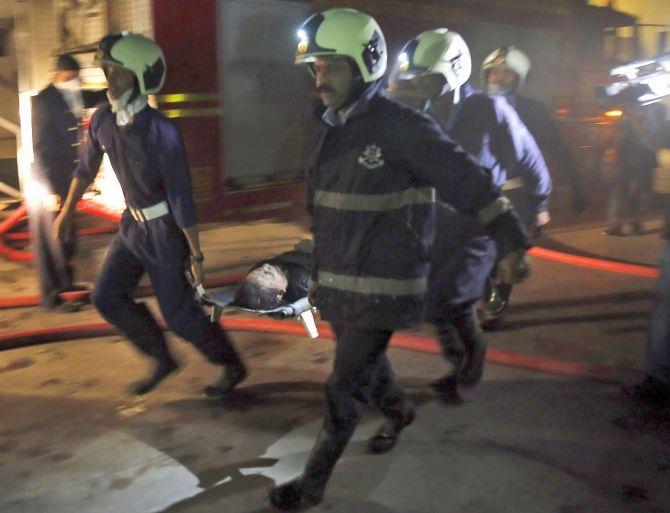 Image: Firemen carry an injured person after a fire broke out in Mumbai's Kamala Mills late on Thursday night in which at least 14 people were killed and as many injured. Photograph: PTI Photo
Dr Rajesh Dere, professor of forensics at KEM hospital, Mumbai, got a call late on Thursday night from the hospital that there had been an emergency with mass casualties, following which he drove down from his home in Thane and reached the hospital at around 3.15 am.
"Patients started coming in at 1 am, and they were resuscitated. We had to try to revive them, we had to see if there was a chance of survival. After that we declare them dead. The first person was declared dead around 2 am," he told this correspondent, while discussing the Kamala Mill fire.

"Some came by ambulance, and most of them came in taxis."

Was there a better chance of survival if they had come by ambulance? "Chances are there as in an ambulance there is oxygen facility etc. If oxygen had been supplied and there was some treatment..." he trailed off.
In Bombay fire casualties often take place in crowded spaces where it is difficult for fire engines to get access and people to exit. Asked if he felt the reason for more deaths due to asphyxiation than burns was because the people were not able to get out, Dr Dere said, "Yes certainly. These were not deaths due to burns. What happened is to save themselves from burning they might have been confined in some washroom, where there was no ventilation.
"When there is no ventilation, the gases from combustion get inhaled so there was hypoxia, or shortage of oxygen, leading to brain cell death.
"There were few injury marks, (so) no stampede," he further said.
One of the doctors who treated the victims on arrival shared his views on what can be done to prevent such mishaps in pubs and restaurants.

"First of all they should have a proper fire exit. As per norms they should have fire extinguishers and exit points. Many hotels, to maximise profit, will use all that area for putting tables and stools. In this case it was a closed room and there was no ventilation."
"Why was there no staff among the victims? Because they knew where to exit from, these people didn't know that," he concluded.