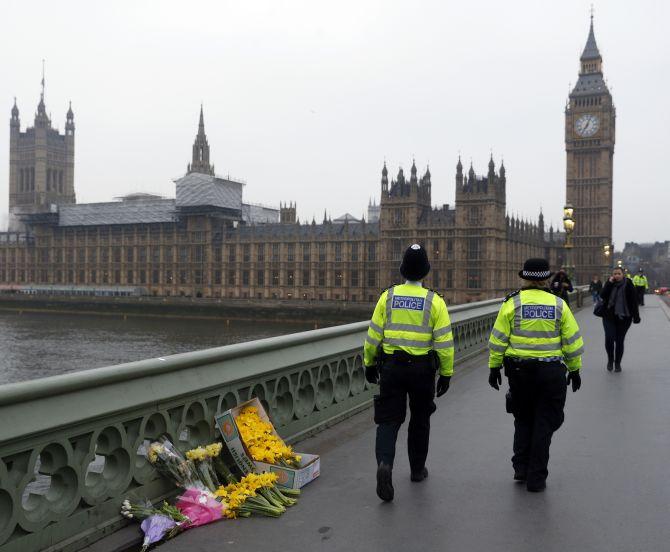 British police said on Friday that they had made two more "significant" arrests over the brazen terror attack on parliament, as investigators focussed on how the lone perpetrator was radicalised and appealed for information about the killer who left at least four people dead.
Metropolitan Police Acting Deputy Commissioner and Head of Counter Terrorism Mark Rowley said that two more "significant arrests" have been made in connection with the incident. A total of nine persons remain in custody and one woman has been released on bail.
He also appealed to the public to come forward with any information on 52-year-old Khalid Masood, the suspect behind the terror attack, who was born as Adrian Russell Ajao in Dartford before converting to Islam. He is said to have used a number of aliases, including Adrian Elms, and was known to UK police and intelligences services.
Masood drove into pedestrians on Westminster Bridge on Wednesday before crashing his car into railings and then running into the grounds of Parliament. Armed with a knife, he stabbed a police constable, before being shot dead by police.
At least 50 people were injured with 31 requiring hospital treatment as the attack unfolded and those affected included at least 12 nationalities, police said.
Rowley said that the investigation would focus on his "motivation, preparation and his associates".
He said that police would investigate whether Masood "acted totally alone inspired by terrorist propaganda, or if others have encouraged, supported or directed him".
Rowley added: "There might be people out there who did have concerns about Masood but did not feel comfortable for whatever reason in passing those concerns to us."
He also said that there would be a review of Parliamentary security to see if changes were needed.
Rowley also said that the Counter Terrorism Command were carrying out five searches of addresses across the UK, having concluded 16 previously.
The Met Police have seized 2,700 items from these searches, including "massive amounts" of computer data and spoken to 3,500 witnesses and have been trawling through hundreds of uploads of video images.
Meanwhile, the fourth victim of the attack on Westminster Bridge, who died on Thursday night, was named as 75-year-old Leslie Rhodes from south London.
The others killed included teacher Aysha Frade and US tourist Curt Cohrane and police officer Keith Palmer.
Two people remain in hospital in "critical condition" and one of them has "life threatening" injuries.
Two Met Police officers injured in the attack also remain in hospital with "significant injuries".
Masood -- who was born in Dartford, Kent -- was known to the police.
His first conviction was in November 1983 for criminal damage and his last conviction was in December 2003 for possession of a knife, Metropolitan Police said.
He was believed to have been living in the West Midlands, and had previously spent time in Crawley, West Sussex, and Rye and Eastbourne, both in East Sussex.
Masood was born to a white mother and black father and is said to have been affected by racism while growing up.
IMAGE: Police officers walk past floral tributes placed at the scene of an attack on Westminster Bridge, in London. Photograph: Darren Staples/Reuters