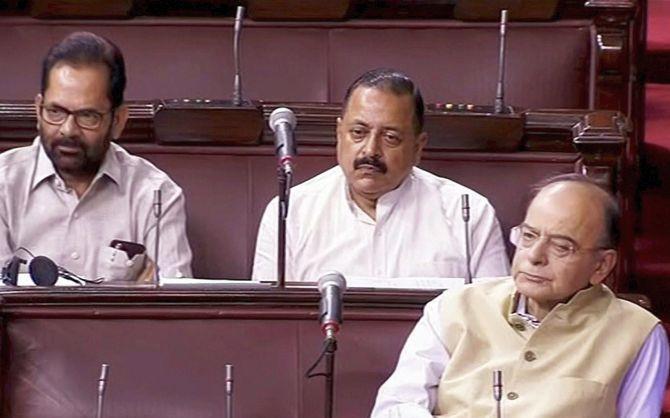 Facing attacks over lynching incidents, the Centre on Thursday asserted that killings in the name of cow 'sentiments' was unacceptable and said the state governments should take stern action against those indulging in such violence.
Union Finance Minister Arun Jaitley, who was replying to a debate on lynchings in the Rajya Sabha on behalf of ailing Union Home Minister Rajnath Singh, made it clear that the central government could not be blamed for violence by 'some people' as it was the responsibility of the state governments to deal with such issues.
"The government's stand is clear. Nobody is allowed to do that (lynching in the name of cow protection). There is no rationalisation, no arguments of sentiments being hurt can be an explanation for this. And, the government is absolutely committed," he said.
He said 'no amount of sympathy' will be shown for those who indulge in lynching and 'law will certainly take its own course'.
Jaitley, who is also the Leader of the House, was replying to the debate on 'situation arising out of the reported increase in the incidents of lynching and atrocities on minorities and Dalits across the country', during which the opposition parties slammed the government and particularly targeted Prime Minister Narendra Modi over such incidents.
Most of the opposition parties blamed Rashtriya Swayamsevak Sangh-affiliates for the cow vigilantism, with the Congress accusing the prime minister of doing nothing to restrain them and 'creating such an environment' by indulging in 'doublespeak'.
Rejecting the Opposition's allegations, Jaitley said the prime minister had spoken thrice against cow vigilantism.
"The government unequivocally condemns the killing of human beings in the name of protecting cows," he declared, adding, "Nobody has the right to take law in his own hands."
At the same time, cow slaughter should not be 'praised' or 'eulogised', he said, referring to an incident in Kerala where a cow was slaughtered on a road by some youth Congress workers and 'beef festivals' were held.
"The incidents of people saying that they will display in Kerala as to how cow is cut and hold festival is equally damaging to the country as lynching in a train," he said.
"Violence can never be a partisan issue and can't be justified... One of your (Congress) CMs of the prohibited states has the audacity to say that given a choice he will eat beef," Jaitley added.
On the Opposition charge of inaction, Jaitley asserted that 'legal action was taken systematically in each incident. People were arrested and they are in jail. They are all going to be chargesheeted against whom evidence is going to be found...This is clear and there is no 'ifs' and 'buts'.'
In his speech, he emphasised that cow slaughter was banned in most of the states during the time of first Prime Minister Jawaharalal Nehru, who was 'secular and not over-religious' unlike Indira Gandhi who was 'more religious'.
""This (ban on cow slaughter) was not proposed by Modi ji or Rajnath ji. This was said by Ambedkar during Nehru's time," Jaitley said, adding ban on cow slaughter was prescribed in the Article 48 of the Constitution framed by the Constituent Assembly.
Later, it was made part of 7th Schedule of the Constitution as a result of which the matter fell under the purview of the state governments.
"At that time, neither the BJP was in place, nor was any state ruled by the BJP," he said, adding most of the states then were ruled by the Congress, which framed laws prohibiting cow slaughter.
"We have laws in place and if any such incident occurs where police is not acting and brought to our notice to this effect, the government will not think twice of requesting state governments and advising the state governments and even asking for reports as well as states are concerned," he said.
"There are no 'ifs' and 'buts'. Laws made in the states have provisions to preserve and protect cows. That right is with the state and its police. Nobody has the right to take law into their hands... If anybody does it, they should be arrested and prosecuted," he said.
He said 'selective morality' caused problem and cited how there were a series of reports on attack on churches during elections in Delhi and not even one case was found politically motivated.
Jaitley said there was no difference in opinion between the government and the opposition as killing of human beings in the name of cow protection has to be unequivocally condemned.
Contending that the definition of secularism has been 'distorted' in 70 years, he said the issue pertains to faith and needs introspection. He urged the opposition to rise above politics.
He took a jibe at the Bahujan Samaj Party saying if the law banning cow slaughter had been framed now, the party would have been the first to object that Baba Saheb Ambedkar was communal.
BSP leader Satish Misra said his party welcomes banning of cow slaughter but the question was killing of people in the name of cow.
Leader of the Opposition Ghulam Nabi Azad said Kashmir, despite having Muslim majority, has a law prohibiting cow slaughter which has not been changed. He, however, decried killing of some people in the state on suspicion of ferrying beef.
He said the Opposition's objection was to lynching and it wanted to know whether people of other religions had no right to do businesses like dairy as they were being targeted in the name of merely keeping the cows.
Jaitley said people have to be tolerant to each other as the country belongs to all. "We have vibrant secularism."
At the same time, he said there were more instances of intolerance and violence in liberal societies.
During his speech, Jaitley attacked the Left Front, asking, "Why is it that incidents of violence increase in Kerala when the Left comes to power there? Why were there no incidents (of violence) when Oomen Chandi (of Congress) was there (till 2014)."
Addressing the opposition benches, he said, "If it wants to know why it did not happen before 2014, you have chosen an eminent and fair man for Vice President...when you will go through every report that Gopal Krishna Gandhi has sent, you will be enlightened."
At this, Azad quipped, "Please do not divide the opposition."
Senior Congress leader Anand Sharma then remarked in a lighter vein that since Jaitley has 'acknowledged' that the opposition candidate for vice president was 'eminent and fair', the ruling party should withdraw its candidate.
Jaitly also stressed the need for uplifting Dalits and weaker sections, saying the way they were treated in history needs to be reversed.
He said the issue boils down to effective action by the police in violence against the Dalits.
In case of police not acting in a state in crimes against Dalits, the Centre 'will not hesitate' in telling that particular state to act.
The Centre can also seek report from the state, he said, adding, if needed, the Union home ministry may monitor probe in any case.
A demand by some opposition members for a separate law for lynching was also set aside by Jaitley, saying the present law was sufficient to ensure justice.
Maintaining that the Bharatiya Janata Party was wrongly blamed for violence against minorities, he mentioned the attacks on churches in Delhi in the run-up to Delhi Assembly polls two years back.
He said investigations had subsequently revealed that some drunkard or some urchin had damaged a church.
"But an impression was given that India had become intolerant", he said, adding New York Times had then written an article about it, damaging India's image.
Earlier, Congress leader Kapil Sibal said the prime minister should not just quote Mahatma Gandhi but follow him in letter and spirit.
Sibal said the Vishwa Hindu Parishad has announced creating a 'holy army of gau rakshaks' and recruited 2,700 people.
"These are recruited by VHP and trained by Bajrang Dal," he said and questioned, "Why doesn't he (PM) say that VHP and Bajrang Dal were anti-social? He gets political support for elections. Hindutva ideology has created a reign of terror," Sibal said.
He said the fight today is between 'fake' and 'real' Hindu.
He said the House needs to rise to stop hooligans who were out to destroy peace and tranquility of the nation.
The Congress leader alleged that government was not able to even take care of cows as 50 cows had lost their lives in Haryana as they were not taken care of well.
Raising a point of order, Minister of State for Parliamentary Affairs Mukhtar Abbas Naqvi said Sibal should authenticate three statements of the PM which he quoted, else these should be expunged.
He also objected to mention of VHP and Bajrang Dal, saying it is the practice not to mention those who are absent from the floor of the House and cannot defend themselves.
Naresh Gujral (Shiromani Akali Dal), while participating in the debate, urged the members to refrain from giving political colour to incidents in a land where Buddha and Mahavir spread the message of tolerance.
Asserting that goondaism cannot be tolerated, he said the government could talk to the Chief Justice of India for creating special court for speedy trial of lynching cases, which amounted to acts like 'terrorism'.
He said it was time that this 'madness' was brought to an end as people are becoming reluctant to come and invest in India in such an atmosphere.
Attacking the government, Sharad Yadav (Janata Dal-United) said the incidents of lynching were more deadly than killings by Talibans and Afghans.
When religion overtakes politics or vice versa, internal conflicts are created, he said and pointed towards Pakistan, Afghanistan and Syria.
Yadav said, "It is unfortunate that such a condition has been created in the country that a student from JNU goes traceless, people are lynched in the name of cow and condition has become so bad that people are afraid of travelling in buses and trains."
He said BJP-ruled states were witnessing maximum cases of lynching. Such incidents occurred in 14 districts of Jharkhand, 11 districts of Uttar Pradesh, 9 districts of Haryana, 5 districts of Rajasthan and 4 districts each of Madhya Pradesh, Maharashtra and Gujarat, Yadav said.
Alleging that laws were being trampled, he asked the government to take 'corrective measures as the minority community of India has chosen the country to live and die here'.
"Don't provoke him. Stop this drama," he said and alleged that livestock was being destroyed on the one side and 12,000 farmers were committing suicide in the country on the other side.
Attacking the Opposition for linking lynching incidents with RSS, Prabhat Jha (BJP) said 'this is not fair' as the Sangh has played a key role in the country's development.
Referring to Leader of Opposition Ghulam Nabi Azad's remark against RSS made in the House on Wednesday, Jha said, "You may not know about Sangh. You might have read about it from papers. We have been part of the Sangh. I am compelled to share what is Sangh all about."
He said a group of 3,000-odd RSS members were invited to participate in the 1963 Republic Day parade by then Prime Minister Jawaharlal Nehru.
"Many do not know about this. The RSS was invited for its contribution. You should not level charges against Sangh when you don't know about it," he said and urged them to show 'magnanimity' in politics.
Urging the Opposition not to do 'politics in the name of Sangh', Jha sought to know why Congress was silent on the issue of separate state flag been demanded in Karnataka.
He said the country belongs to all and everyone should take equal responsibility.
Urging the Opposition not to be selective in mentioning the lynching incidents, Union Minister and senior BJP leader Prakash Javedekar said any such crime should not only be condemned but should be stopped.
"We will not tolerate lynching...Don't walk on the path of defaming the nation's image with these incidents. One should not be victim of selective amnesia and see the incidents with political eye," he said.
States, be it BJP or non-BJP ruled, should take stringent action against those involved in lynching, he said as he listed out 2012 and 2013 lynching incidents.
Targeting the Congress, Javadekar said burning of 3,000-odd Sikhs in the 1984 riots was 'one of the biggest lynching incidents in India's history'.
"Even killing of 59 devotees of Ram in Godhra train burning in 2002 was also lynching," he said.
In 2012, 25 people were killed in 16 lynching incidents in eight states, while 18 were killed in 14 such incidents occurred in 2013 in six states, the minister added.
Reacting to Javedekar's remark, Azad said, "If the education minister has such a thinking, we can very well imagine what kind of education is and will be imparted in the country."
He attacked the HRD minister for putting things in a selective manner, saying that it was Congress that had contributed to the making of the country.
"We, Congress, have contributed to the making of the country. You were with British. We have given our blood for the nation. Have you taken a contract for making of Bharat?" he said and staged a walkout.
JDU, Samajwadi Party, BSP and Left members also staged a walkout on this issue. They all returned after 10 minutes.
D Raja (Communist Party of India) said lynching is a societal problem and the centre should frame a separate law to prevent such incidents rather than asking states to contain.
There is a need to understand that a 'dangerous' trend is uprising with 'mob lynching' -- which is part of 'Bhramanical fascism' and 'part of an ideology and political theory' -- taking over the political structure, he said.
No arrests been made and even accused are acquitted in the recent incidents, he said and emphasised the need to put in place a central law to curb such elements.
K T S Tusli (Nom) demanded ban of the communal organisations involved in lynchings.
No law has been enforced to contain these incidents, which are more in BJP ruled states, he said, quoting a study that found 32 out 63 cases were in BJP ruled states.
Rajeev Chandrashekar (Ind) said that sentiments of Hindus are as important as Muslims, Christians and Sikhs. If the sentiments of a large community are hurt then those should be addressed.
He also talked about the prevailing 'double standard of polity' while highlighting the killings of BJP workers in Karnataka and Kerala, and urged to the Opposition parties to stop the 'hypocrisy'.
Congress member Kumari Selja said every Indian feels sad that the country was being described as 'Lynchistan' and it was a matter of shame for all.
She said an atmosphere of fear was being created on the basis of an ideology and such incidents were taking place on a daily basis.
Pointing towards the treasury benches, Ali Anwar Ansari of the JD-U said the 'disease called lynching is an outcome of your party's (BJP) ideology'.
In an apparent reference to the BJP, K K Ragesh of the CPI-M said it was dividing people on communal lines and has attained momentum in states like Gujarat by the politics of spitting communal venom which is the basis of mob lynching.
He said the BJP was targeting Kerala with the same divisive momentum and spitting communal venom.
Hearing this, Commerce and Industry Minister Nirmala Sitharaman raised an objection saying Ragesh was 'insinuating' in the Upper House. Other BJP members including Minister of State for Parliamentary Affairs Mukhtar Abbas Naqvi also stood up and objected to the remarks made by Ragesh.
T K S Elangovan of the Dravida Munnetra Kazhagam said mob lynching is not acceptable and alleged that the mobs or groups resorting to such acts have the support of some Hindutva group.
He further said it was not about the RSS or VHP but about people who claim they are committing violent acts in the name of Hindutva.
LOK SABHA
The Lok Sabha was adjourned for the day on Thursday after opposition repeatedly disrupted the proceedings by raising slogans on the plight of farmers and related issues.
The adjournment for the day was announced by Speaker Sumitra Mahajan soon after the House resumed business at noon for the Zero Hour after two consecutive adjournments forced by the opposition members who stormed the Well and raised slogans.
When the House assembled for the day and took up the Question Hour, opposition members, mostly from the Congress, trooped into the Well raising slogans saying the Prime Minister should respond to the concerns over farmers' plight and the agrarian crisis.
Parliamentary Affairs Minister Ananth Kumar said the Lok Sabha had concluded a discussion on the issue on Wednesday.
But as the slogan-shouting continued, Speaker Sumitra Mahajan was forced to adjourn the house till 11.30 am, just about 10 minutes after it had assembled at 11 am.
When the House resumed business at 11.30 am, the opposition members belonging to Congress, TMC, Left and other parties again trooped into the Well and started raising slogans pressing for their deamands.
As the unruly scenes continued, the Speaker appealed to the protestors to return to their seats and then adjourned the House till noon.
However, when the House resumed to take up different issues during the Zero Hour, the opposition members again came into the Well raising slogans.
Holding placards, some members, who are part of the AIADMK (Puratchi Thalaivi Amma), trooped into Well demanding a CBI probe into the gutkha (a tobacco product) scam.
A minister in the Tamil Nadu government, which is run by AIADMK (Amma) group, and some officials have come under the scanner for alleged bribery to facilitate the sale of banned gutkha in the state.
Sensing the opposition mood and as it became difficult to continue the business of the House amidst the noisy scenes, the Speaker called for the listed papers to be tabled and then adjourned the House for the day.