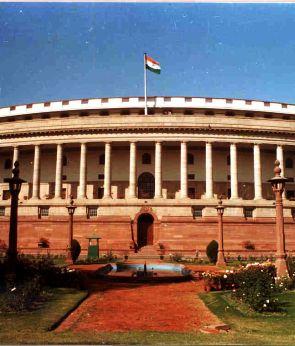 Even as the government and the Opposition are mulling whether the monsoon session of Parliament should be extended by a week, it seems both Houses would need 20 working days to finish the scheduled legislative work, let alone undertake fresh work.

The session, behind schedule, was originally set to end on August 30.
With barely a week left, the session has been able to accomplish next to no legislative business.

The Lok Sabha has passed nothing.

The Rajya Sabha's performance is a little better. It has managed to clear five Bills: The National Waterway (Lakhipur-Bhanga Stretch of the Barak River) Bill, 2013; The Registration of Births and Deaths (Amendment) Bill, 2013; The Citizenship (Amendment) Bill, 2013; the Companies Bill, 2012; and The National Highways Authority of India (Amendment) Bill, 2013.
The Rajya Sabha, somewhat optimistically, had listed 25 new Bills for consideration and passing before the beginning of the session. These included important financial legislation such as the Pension Fund Regulatory and Development Authority Bill, 2011; and the Insurance Laws (Amendment) Bill, 2008. Both have a direct and immediate bearing on the economy. Also, the Land Acquisition, Rehabilitation and Resettlement Bill, 2011, and the Food Security Bill.

The Rajya Sabha hasn't even begun discussing the Bills, let alone passing those.
The session was to have 16 sitting days between August 5 and 30. Of the 43 Bills listed for consideration, 32 are from previous sessions.

Parliamentary Research Service said of the 38 listed for passing, the Budget session of Parliament earlier this year saw the passage of only two, apart from the appropriation Bills.

These were the Protection of Women Against Sexual Harassment at Workplace Bill and the Criminal Laws (Amendment) Bill.

If the Lok Sabha were to discuss the 30 Bills to be passed, it would need a minimum of 20 working days, said the PRS.
With four sitting days left without passing a single Bill, it is unclear how the Lok Sabha would pass the Bills, with debate.
There is no clarity what the extension of the tenure of the two Houses would achieve, if the pattern of adjournment -- an average of four-five a day -- remained the same.
The current session was seen as the last meaningful one in the tenure of this Lok Sabha -- with the winter session and the final Budget session likely to be dominated by assembly and general polls.