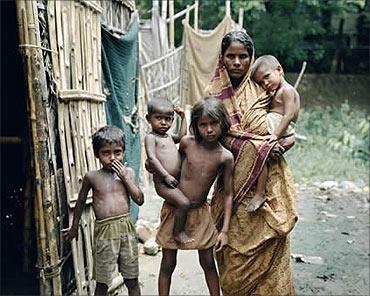 Each 'adarsh village' should have piped drinking water, connectivity to the main road, electricity supply to all households, library, telecom and broadband connectivity including CCTVs in public areas. Emphasis will also be on e-governance, says Sheela Bhatt/Rediff.com.
When Prime Minister Narendra Modi launched the Sansad Adarsh Gram Yojna on October 11, the birth anniversary of Jayaprakash Narayan, the idea was to create "visible progress" out of the huge funding allocated for the Member of Parliament Local Area Development Scheme (MPLADS), which has an annual fund of more than Rs 4000 crore.
The Lok Sabha and Rajya Sabha, respectively, have 543 and 250 members. Each Lok Sabha MP gets Rs 5 crore a year to spend for development in his local area, while Rajya Sabha MPs can select any part of the country to spend the fund given under the MPLAD scheme.
Thus, during the five-year tenure of the Lok Sabha. its members spend a whopping Rs 13,575 crore while the Rajya Sabha MPs spend Rs 7500 crores. But, many times, the funds remain unspent or the development is hardly visible even when the funds are not misused.
Now, detailed guidelines have been issued under the SAGY by the rural development ministry. The text of the official guidelines reads more like a fantasy plan for rural India.
It's good to know that Lok Sabha MPs have been asked to not adopt their close relatives' or their own village or their 'in-laws' village'. The village adopted in 2014 should become an 'adarsh village' by 2016. After developing it in three years, the Lok Sabha MPs will have to adopt another two villages for development. The Modi sarkar wants that after 2019, every year, MPs of the next Lok Sabha should ensure that one village turns into 'adarsh gaon' and the programme of adoption should continue till 2024.
The government claims that the main purpose of adoption is to remove poverty from the adopted villages. The official guidelines dictate a truly ambitious programme for MPs.
Like, it demands focus on 'transforming villages into model villages by providing all-round infrastructural development along with emphasis on gender equality, women empowerment and dignity, social justice, cleanliness, community service, peace, harmony and eco-friendliness'.
Also, it says that each village will have pucca houses for the homeless and proper sanitation facilities. There will be smart schools with IT-enabled classrooms, e-libraries and web-based teaching. Also, each student will have universal access to education facilities up to class X. The plan also aims to provide basic healthcare facilities to all with health card, medical examination, and total immunisation.
Of course, as per the guidelines, the 'adarsh village' should have piped drinking water, connectivity to the main road, electricity supply to all households, library, telecom and broadband connectivity including CCTVs in public areas. Emphasis will also be on e-governance.
SAGY will ensure the provision of Aadhaar cards to all villagers. Besides insurance schemes like Aam Aadmi Bima Yojana and universal access to Public Distribution System to eligible families for social security, old age, disability and widow pensions, the government has demanded that MPs focus on 'personal development', which includes training in and awareness of hygienic behaviour, physical exercise, and reducing alcoholism, smoking and substance abuse.
In this matter all planning processes of the gram panchayat will be guided by the district collector.
Channelisation of MPLADS funds into villages is an idea that has been well picked up by MPs, including Congress president Sonia Gandhi and its vice president Rahul Gandhi.
Amid fanfare Modi recently adopted Jayapur village near Varanasi which, the local press wrote, drove away Aurangzeb's army some four centuries back. BanarasHinduUniversity professor KK Mishra has been quoted as saying that when Aurangzeb's soldiers arrived to demolish an old temple with a black idol of Lord Hanuman in it, Jayapur's residents beat them back.
Today Jayapur is dominated by Kurmi Patels who are supporters of Apna Dal, the UP-based regional party which fought the 2014 general elections as part of the National Democratic Alliance. The village has erratic electricity supply but does have basic amenities as some of the Kurmi Patels are rich farmers. Despite a population of 3000 the village doesn't have a hospital or good roads. Children travel kilometres to reach their school but when Modi visited the village recently they said, "Ab achche din aanewale hain."
Similarly Hema Malini, who represents Mathura in the Lok Sabha, has adopted Rawal Bangar, birthplace of Radha, Lord Krishna's consort. On the day of adoption she told the media, "The development itself should speak that it is the village of Radha Rani."
Sonia Gandhi has adopted Udwa village in her Rae Bareli constituency while Rahul has adopted Deeh in Amethi which he represents. Sonia Gandhi's political secretary and Rajya Sabha MP Ahmed Patel has selected Vandri, a remote tribal village without basic amenities in Dumkal gram panchayat, Narmada district, south Gujarat. Patel told the media on the day of adoption, "In 2011 the literacy rate of Vandri village was 42.46 per cent as compared to the 78.03 pc of Gujarat."
Modi's idea is that by the end of his first tenure, 2019, some 2500 villages will have been fully developed. If the MPs work sincerely and once institutional infrastructure is created in the adopted villages it will create a buzz, setting off a chain reaction in neighbouring areas.
However, this is a difficult idea to succeed. India has more than 2,50,000 panchayats. Modi's dream idea will cover just one pc of rural India by 2019. However, say most MPs, a beginning has to be made somewhere. They agree in private that the idea of building smart schools and pucca homes in adopted villages are dream-like promises, but there will be government funds if there is a will.
In a sense this is not a novel idea. The United Progressive Alliance government had also launched the 'Pradhan Mantri Adarsh Gram Yojana', which was to give priority in development for Dalit-dominated villages. Modi's revamped scheme aims at a holistic approach.
There is so much demand among villagers to get adopted that some MPs took the lottery route, like former Army chief turned MP turned minister General V K Singh, who has adopted Mirpur Hindu village.
Also, it will be interesting to see the trajectory of development when the super-rich and super-successful living legends like Sachin Tendulkar adopt villages under SAGY. He has adopted Puttamraju Kandriga village in Potti Sriramulu, Nellore district, in Andhra Pradesh. Among the many things he has promised the village is free wi-fi.
In Gujarat, many Congressmen have alleged that BJP MPs are adopting villages which are already developed in many ways. In Gujarat most villages have an active social network that supports the villagers' needs. Congressmen also allege that the SAGY is old wine in new bottle because government schemes will always function with limitations and slow space.
To understand the basic thought behind the adoption of villages by MPs, Rediff.com spoke to Nirmala Sitharaman, minister of state for commerce (independent charge). Nirmala, who works quietly sans hype, is a Rajya Sabha MP from Andhra Pradesh, and has selected two isolated coastal villages, Pedamainavani Lanka and Thruputalla, in West Godavari district. The villages face sea erosion and get submerged every year when high tide washes its shores, and their fate moved Nirmala's heart.
She emphasised that under the SAGY MPs will not distribute money and patronise the villagers. It's about empowerment of people, inspiring and leading them to get involved in the development of their own village, she said.