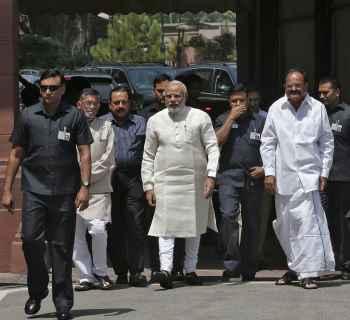 The prime minister's office will play the principal role in decision-making. Rediff.com contributor Renu Mittal reports.
Prime Minister Narendra Modi is consolidating power and decision-making in the Prime Minister's Office.
Secretaries of various government departments have been told that files sent by the PMO should be cleared immediately, and the secretaries should not place the files for the concerned ministers' attention.
This directive will make ministers redundant in key decision-making areas.
Joint secretaries at the PMO will be in charge of specific subjects and ministries, and will take decisions on the prime minister's directions. These, the secretaries, who head various government departments, are expected to clear without delay.
While the prime minister has abolished the Group of Ministers and the Empowered Group of Ministers set up by his predecessor Dr Manmohan Singh, he has replaced it with an almost identical system which will also require consultation as occurred in the previous GOMs.
On each key project taken up by the government, four ministers with related work profiles will brainstorm among themselves and arrive at the most viable solution to the issue/problem under discussion.
For example, four ministers have been given the brief on the Ganga water purification plan and are expected to suggest solutions.
The prime minister has also done away with four Cabinet sub-committees -- on prices, management of natural calamities, World Trade Organisation matters and the Unique Identification Authority of India.
The Cabinet Committees on Economic Affairs, Political Affairs, Security, Parliamentary Affairs and Appointments are expected to be reconstituted soon.
The Modi government is set to scrap the National Advisory Council, which was headed by Congress President Sonia in the previous regime, and replace it with an advisory body. This new team of experts will advise the PMO on critical issues like water, agriculture, industry, etc.
Image: Prime Minister Narendra Modi arrives at Parliament House. Photograph: Adnan Abidi/Reuters