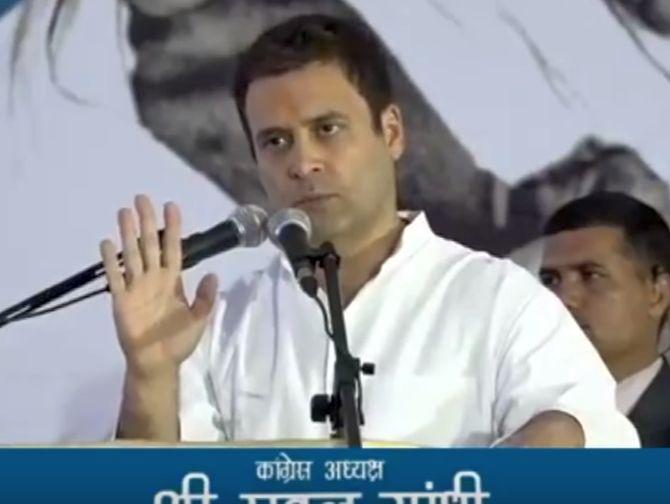 Congress president Rahul Gandhi, who on Saturday met party leaders here to discuss assembly election results, claimed Prime Minister Narendra Modi's much talked-about Gujarat development model was debunked during the polls.
The Congress chief held zone-wise "introspection meetings" in Ahmedabad to ascertain reasons for the party's defeat.
"You fought very well. We managed to 'gherao' the BJP, as you could see that they were not able to give reply to our questions," Gandhi told party workers.
"Modiji, in the end, spoke about himself, about (former prime minister) Manmohan Singh. But all earlier talk about development and Modi model was debunked by Congress workers and the people of Gujarat," he said.
The entire country was asking what happened to the Gujarat model. Modiji would not be able to talk about it in the future, Gandhi said.
"The question asked three or four months ago was can the Congress fight elections, nobody was talking about us winning it. The Gujarat Congress has shown the entire country that if it fights in one voice on the basis of its ideology, it won't get defeated," he said.
"We lost in the elections, but we won. That is the reality. We won because they (the BJP) fought with anger, they had all the equipment, money, chief ministers of different states (to campaign), industrialists, but we had truth," the Congress chief said.
In the morning, Gandhi visited the Somnath temple in Gir Somnath district.
While the BJP retained power in prime minister Modi's home state by winning 99 seats in the assembly polls earlier this month, the Congress increased its tally significantly by winning 77 seats.
Earlier, the newly appointed Congress president took a swipe at the ruling party saying if it had a film franchise it would be called "Lie Hard".
"If BJP had a film franchise it would be called Lie Hard," he said on Twitter, while rhyming it with Hollywood action blockbuster Die Hard.
His attack on the BJP came a day after he accused the ruling dispensation of having its structure and foundation based on lies. He was speaking at the meeting of Congress's highest decision-making body, its Working Committee.
Gandhi has been using one-liner laced with satire to target the BJP in recent months. Gandhi also used three taglines on Twitter along with his remark.
Gandhi's attack came after the BJP targeted him for watching the film Star Wars on the day election results for Gujarat and Himachal Pradesh were announced and his party lost the elections.