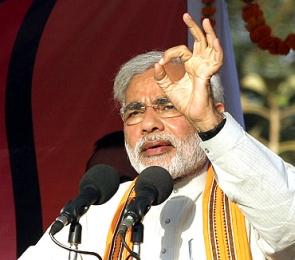 Narendra Modi's stamp was written all over as the Bharatiya Janata Party announced its election campaign committee for 2014 polls on Friday including top leaders Murli Manohar Joshi, Sushma Swaraj and Arun Jaitley who will work under him.
The 12-member committee to which Modi was appointed as chairperson in Goa last month will also have other senior leaders including M Venkaiah Naidu, Nitin Gadkari, besides Chief Ministers Shivraj Singh Chouhan (Madhya Pradesh), Raman Singh (Chhattisgarh) and Manohar Parrikar (Goa).
This committee will be assisted by 20 sub-committees, which will concentrate on various aspects of electioneering including rallies, publicity, manifesto, reaching out to the youth through social media, courting first time voters, "crowd sourcing", and preparing a vision document of its programmes and a "charge-sheet" against the United Progressive Alliance rule.
"All the sub-committees will be steered under the leadership of Narendra Modi... The party has given Modi the responsibility of 2014 elections... Under his leadership the whole campaign will move forward," BJP General Secretary Ananth Kumar said.
The election campaign committee and the sub-committees will work under the overall "guidance" of Atal Bihari Vajpayee, L K Advani and party President Rajnath Singh, he added.
Gadkari has been asked to pay "special attention" to Delhi in the forthcoming assembly elections. Navjot Singh Sidhu, Amritsar MP, will assist Gadkari.
The campaign committee and the sub-committees have been formed by Modi and Rajnath Singh in consultation with other senior leaders.
Murli Manohar Joshi has been appointed as head of the manifesto committee, which will have Jaswant Singh, Yashwant Sinha, former Himachal Pradesh Chief Minister Prem Kumar Dhumal, Sushil Kumar Modi, Shahnawaz Hussain and V K Malhotra, among others, as members. A vision document will also be released with the manifesto. To be prepared under the guidance of Gadkari, with Vinay Sahasrabuddhe as a member, the document will highlight the achievements of erstwhile National Democratic Alliance government.
The publicity for the party, including in electronic and print media, outdoor campaign, will be handled by Swaraj and Jaitley who will be helped by General Secretary Amit Shah and Sudanshu Trivedi. Among the "innovative" efforts at wooing voters is the BJP's special focus on the "emerging population" -- the first time and new voters who form 20 per cent of the electorate. Amit Shah, Poonam Mahajan, Sidhu and Trivendra Rawat will handle this.
The BJP plans to organise over 100 rallies, starting from August, in the run-up to the elections. These rallies will be planned and executed by Ananth Kumar and general secretary Varun Gandhi. The party's attempts to mobilise support among different communities like weavers, farmers, peasants and labourers, fishermen and so on through targeted conferences will be organised by general secretary Murlidhar Rao. Vinay Katiyar, Shyam Jaju, and Vijay Sonkar Shastri will assist him.
The BJP will reach out to the professionals- doctors, CAs, engineers and so on -- through a team comprising of Rajiv Pratap Rudy, Prakash Javadekar and others. Workshops for booth level party workers will be organised by Thawar Chand Gehlot, J P Nadda, Purushottam Rupala among others.
Crowd sourcing through feedback from people about party manifesto, slogans, vision document and so will be handled by general secretary Dharmendra Pradhan and Rameshwar Chaurasia. Other sub-committees include a team for traditional campaign through plays and folk songs, which will comprise of Smriti Irani, Captain Abhimanyu and Vani Tripathi.
Unorganised workers and nationalist organisations -- most of whom are part of the Sangh Parivar -- will be contacted through a special programme by a team headed by Gadkari. Uma Bharati, C P Thakur, J K Jain, Kalraj Mishra, Kiran Maheshwari and Mridula Sinha are part of this team.
Strengthening of party's presence at the booth level will be the responsibility of general secretary (organisation) Ramlal who will be assisted by V Satish and Saudan Singh, both secretary (organisation). A "charge-sheet" against the "misrule" of the UPA in the last nine years, as also the Congress-ruled states- is also being prepared. Deputy Leader of BJP in Lok Sabha Gopinath Munde and his Rajya Sabha counterpart Ravi Shankar Prasad will be engaged in this. Nirmala Sitharaman, Kirit Somaiya, Meenakshi Lekhi and Arti Mehra form a part of this team.