Prime Minister Narendra Modi efforts to secure membership for India to the Nuclear Suppliers Group, on Friday, failed with members of the elite grouping failing to reach a consensus over the issue.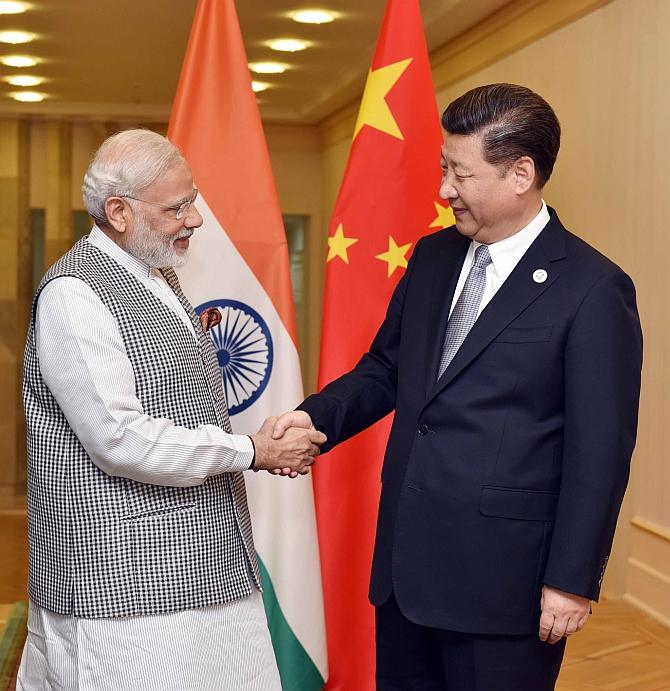 On Friday, at a high-level meeting of the NSG in Seoul, Switzerland is reported to have raised concerns over induction of non-Nuclear Non-Proliferation Treaty countries like India.
At the end of its two-day plenary in Seoul, the NSG on Friday declared its "firm support" for the "full, complete and effective" implementation of the NPT as the cornerstone of the international non-proliferation regime, a clear indication that no exception will be made in the case of India.
The statement by the 48-nation grouping, however, said that it will continue to have discussions on participation of countries which have not signed the NPT.
Confirming that the India's application was discussed during the two-day deliberations, the NSG statement, under a sub-heading 'Outreach', said it shared information on all aspects of the 2008 Statement on Civil Nuclear Cooperation with India and discussed the NSG relationship with India.
"Participating governments reiterated their firm support for the full, complete and effective implementation of the NPT as the cornerstone of the international non-proliferation regime," it said.
Speaking to ANI in Seoul, ministry of external affairs official spokesperson Vikas Swarup said that that despite procedural hurdles persistently raised by 'one country', a three hour long discussion took place on Thursday night on the issue of future participation in the NSG, in which an overwhelming number of those who took the floor supported India's membership and appraised India's application positively.
"We thank each and every one of them. It is also our understanding that the broad sentiment was to take this matter forward," he said.
Stating that India's membership had been discussed within the NSG at every plenary meeting since 2011, Swarup said that an early positive decision by the NSG would have allowed India to move forward on the Paris Agreement.
Talking about China's claim that India needs to sign the NPT first before joining the NSG, he added that there is no contradiction between the NPT and India's closer engagement with the NSG.
"It is also our understanding that most countries want an early decision. A few countries raised issues regarding the process for India's participation in the NSG. It is self-evident that process issues would not arise if these countries were actually opposed to our participation. This is corroborated by our own bilateral engagement with each of these countries," Swarup said.
Asserting that India believes that an early decision on its application remains in larger global interest, the spokesperson said that India's participation in the NSG will further strengthen nuclear non-proliferation and make global nuclear commerce more secure, adding that it would also advance energy security and make a difference to combating climate change.
"We are confident that the NSG will recognise these benefits as it deliberates further on this issue," he added.
China's stand that India's membership application cannot be considered because it has not signed the NPT was backed by nearly 10 other countries which effectively torpedoed India's bid although it had the strong backing of the US, the UK, France and a majority of countries in the nuclear trading group.
Earlier, the chief Chinese negotiator, Wang Qun continued to vehemently oppose India's membership of NSG.
Wang, Director General of China's Department of Arms Control, told reporters that there was no consensus on the NSG membership of non-NPT countries like India.
He insisted that for a country to be a member of NSG, signing of the NPT "is a must". This rule has not been set by China but by the international community, he added.
Wang warned "if exceptions are allowed here or there on the question of NPT, the international non-proliferation will collapse altogether".
Asked about reports that Beijing was blocking India's membership, he said the NSG has so far not agreed to any agenda item on participation of non-NPT countries. Therefore, there was no point of China supporting or opposing India's membership.
The anti-India stand taken by China again on Friday clearly shows that Chinese President Xi Jinping has not responded to Prime Minister Narendra Modi's urgings in Tashkent on Thursday that Beijing should support India's case.
Seeking China's support for India's membership, Modi had urged Xi to make a "fair and objective" assessment of India's application which is before the Seoul plenary as the two leaders met on the sidelines of the Shanghai Cooperation Organisation Summit.
China had "belligerently" led opposition to India's membership of NSG at a three-hour post-dinner meeting of the NSG at Seoul late Thursday night which ended in a deadlock.
Preceding the 2-day plenary of the 48-member NSG, which began on Thursday, China had repeatedly said that India's membership was not on the agenda and is said to have made every effort to prevent any discussion on India's bid. However, Japan is believed to have raised India's case in the morning session after which it was agreed that the matter would be taken up at the special post-dinner meeting.
Indian official sources said that China was joined by Austria, Ireland and Brazil among other countries which questioned as to how a country like India which had not signed the NPT can be admitted to the grouping. Essentially their opposition was couched in principles and processes.
Brazil's objections are said to have surprised the Indian diplomats who pointed out that it is a member of the 5-nation BRICS grouping. Besides India and Russia, the grouping includes Russia, China and South Africa.
In the NSG plenary, chaired by Ambassador Song Young-wan of South Korea, the participating governments also called upon all states to exercise vigilance and to ensure effective implementation of all United Nations Security Council Resolutions relevant to the work and purposes of the NSG.
Speaking to ANI in Seoul, Director-General of the Arms Control Department of Ministry of Foreign Affairs of China Wang Qun asserted that India's membership has 'never ever' been on the agenda of the NSG and that there is no such agenda item for the two-day plenary, adding that there is no point of China opposing or supporting India as well as the membership of other countries.
"One thing is clear that India's membership has never ever been taken up as an agenda item. In the two plenary sessions, there was no extraordinary session on this matter. There is no such agenda matter. In the caveat there could be observations and interventions but that's all," he said.
Meanwhile, the NSG decided that Switzerland will assume the Chairmanship of the NSG from 2017 to 2018 and will host the next plenary.
The NSG also welcomed the growing number of states that have harmonised their national export control systems with the NSG guidelines and control lists. It also discussed options for enhancing outreach such as dedicated briefings for and meetings with interested non-NSG partners on the work of the group.
It also decided to have a dedicated response to non-NSG partners seeking assistance and practical experience in developing, updating, strengthening and implementing national export control systems.