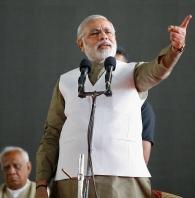 Former prime minister Atal Behari Vajpayee's niece Karuna Shukla on Saturday hit out at the Bharatiya Janata Party, saying the anointment of Narendra Modi as its prime ministerial candidate was against the Constitution.
"It is against the constitution of our country. A prime minister or chief minister candidate is chosen respectively by elected Members of Parliament or Members of Legislative Assembly. I do not find it right," said Shukla.
It is against the laid down principles of the Constitution, she said.
She also claimed that Modi, who is campaigning aggressively in assembly elections, will have no impact on the poll results in Chhattisgarh, Madhya Pradesh, Rajasthan, Mizoram and Delhi.
"States have their own problems and profiles. National problems are different from states. In states, workers have formed their own strategy to ensure victory. Modi will not have any effect in the election," said Shukla, a former national president of the BJP Mahila Morcha.
Shukla, a former Member of Parliament from Jangir-Champa parliamentary constituency, had quit the party over her differences with the BJP's style of functioning in poll-bound Chhattisgarh.
"I do politics based on values and principles, the same way I live my life. Self-esteem is very important. For the last five years, certain things were going on in the BJP which I did not like. I decided to leave the party, as I felt that the party does not need me," she said.
She said she approached senior leaders on the situation in the state BJP but they did not help her.
"Later, I thought it was best for me to leave the party," Shukla said.
Though the former BJP leader claimed she has been approached by many for campaigning against the saffron party, she has decided not to speak in favour or against any political party.
"I am without any party. I am independent. I have been approached by many opposition parties to join them or campaign against the BJP. But I refused. Who does not need a ready made 'neta' with 32 years of experience? I have decided not to campaign in favour or against anybody," Shukla added.
The rebel has influence among a sizeable number of voters in Janjgir-Champa, Korba and Bilaspur constituencies.
She said Vajpayee has always been a guiding force and source of encouragement for her and other party workers.
"Vajpayeeji's blessings are with each and every worker of the BJP. I too had his blessings. But I never did politics in areas which had his influence like Vidisha and Gwalior (in Madhya Pradesh) and Agra (in Uttar Pradesh) among others," she said over phone from Raipur.
Shukla declined to comment when asked about the probable outcome of the elections.
"I will not like to say anything on this," she said when asked whether the BJP would win the elections.
Shukla, who had contested 2009 Lok Sabha polls from Korba constituency, had lost the election to Congress' Charan Das Mahant.
Mahant was the lone Congress MP in Chhattisgarh, which has 11 Parliamentary constituencies.
As many as 72 assembly constituencies of Chhattisgarh are slated to go to polls in the second and final phase on November 19.