'There is no money with the villagers as there is little work.'
Archis Mohan reports from Bagurwa, a village in Rajasthan.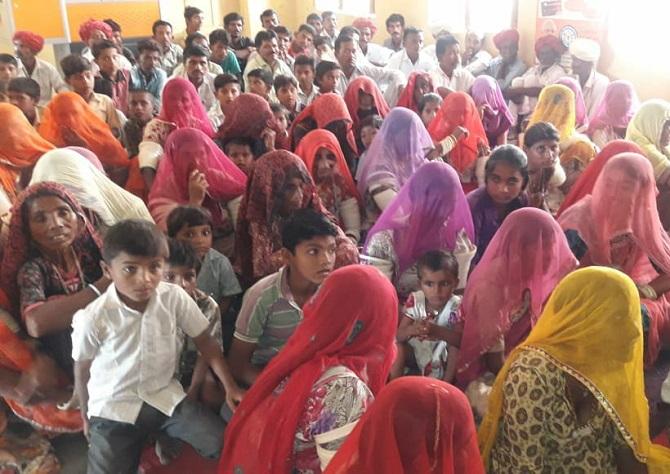 Every month, for a couple of days, Mohanlal Meena, 45, treks to the top of a hill 3 km from his village, Bagurwa. His son, Dinesh, a college student, accompanies him. Both of them set up a fingerprint scanner there.
Villagers follow them to the hilltop and get their thumbprint authenticated. Then they climb down and wait for another day before getting the 5 kg wheat every family is entitled to under the public distribution system. After subsidies, the wheat is priced at Rs 2 per kg.
Meena, the owner of a ration shop in the village about 50 km from Udaipur city, and his neighbours are forced to perform this Sisyphean task every month because Internet connectivity there is patchy.
It is the same story in neighbouring villages such as Ajbara that are mostly inhabited by members of the Meena community.
Most villagers have resigned themselves to the fact that they will have to give the ration shop owner his commission: A kg of their monthly wheat entitlement.
Wheat is not the only thing that makes villagers run uphill and downhill.
Some elderly residents complain they have given up on Rs 500 per month senior citizen pension as they cannot climb hills anymore.
"Earlier, the postman would visit my house to give the money and I would happily give him Rs 10," said 70-year-old Sangaram.
The Meena community in Shekhwati and Marwar may have benefited from job reservations, but their brethren in Mewar are mostly daily-wage labourers and largely semi-literate.
After two successive years of drought, they are now reliant on subsidised wheat.
Most men in the community work in the nearby mines. Several said they have found no work under MNREGA (the Mahatma Gandhi National Rural Employment Guarantee Act) for the past few years.
According to ministry of rural development data, work provided by Rajasthan under MNREGA between 2016-2017 and 2018-2019 (till October) fell by 18.73 per cent.
In 2018-2019, only 27,982 families had received 100 days' of work till November. In comparison, in the 12 months of the previous year, 228,084 families had got full 100 days' work.
Walchand Chaudhary, a shopkeeper in Adwas, is the local Bharatiya Janata Party pratinidhi, or representative. He, too, is critical of the Centre.
"(Prime Minister Narendra Damodardas) Modiji has earned much respect abroad, but he should have paid more attention back home. There is no money with the villagers as there is little work. Sales have been poor," Chaudhary said, complaining how lack of MGNREGA work has impacted the village economy.
While Chaudhary wants Modi to get five more years at the Centre, he said there was widespread anger against Chief Minister Vasundhara Raje's government.
Most villagers also remember demonetisation vividly. They also complain that since the goods and services tax roll out last year they have had to cough up more money for building homes.
Poor mobile networks adversely affecting Aadhaar-linked schemes in Rajasthan is not unknown.
The Omidyar Network's State of Aadhaar Report 2017-2018 estimated that even a year after making Aadhaar mandatory for PDS, about 1.2 million were denied rations every month because of authentication failures.
The BJP leadership is hopeful the beneficiaries of its other schemes would back the party. However, the much-touted Bhamashah Yojana of the state government has covered only 2.4 million, and remote areas have remained largely untouched.
Women in Adwas said they had not benefitted from the scheme. The farm loan waiver has not helped most Meenas here, as their landholdings are too small to qualify for it.
The Congress last week brought out a 'chargesheet' against the Raje government. Its state unit chief Sachin Pilot alleged the Modi government at the Centre was step-motherly in budgetary allocations in Rajasthan for central government schemes, and that the Raje government has failed to fulfil its promise of providing 1.5 million jobs.