It is all work and no rest when it comes to the action-packed schedule in the life of Prime Minister Narendra Modi.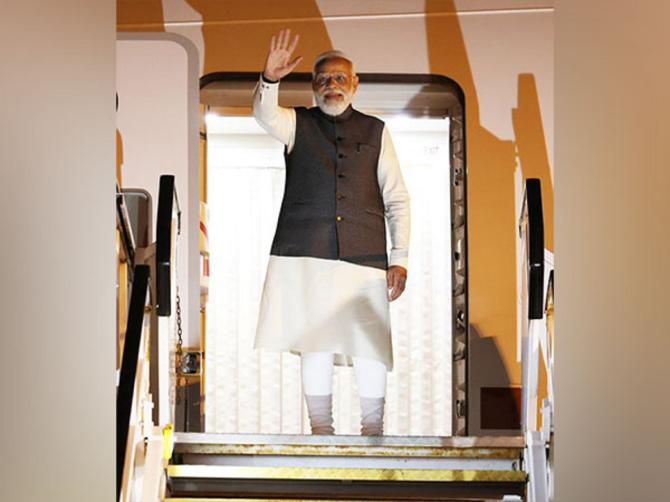 Upon his return, the PM is slated to get a gala welcome from the Bharatiya Janata Party.
The party workers will accord a grand welcome outside Palam Airport Technical Area for his unprecedented visit to Japan, Australia and Papua New Guinea.
In the last few days, Modi has travelled across three countries holding multiple meetings only to return home for what looks like a packed day at work
Modi will be in Delhi in the wee hours of Thursday morning.
Immediately upon reaching the national capital work beckons for Modi.
Top sources in the prime minister's office told ANI that his first official meeting is scheduled to be held as early as 9 am on Thursday, within a couple of hours of his return to the capital city, his residence since 2014.
At 11 am on Thursday Modi will flag off the inaugural run of Vande Bharat Express from Dehradun to Delhi via video conferencing.
Amongst the other meetings throughout the day, the PM will declare open Khelo India University Games 2022 at 7 pm via video conferencing tomorrow evening.
His recently concluded visit across three countries has been action-packed, to say the least.
Throughout his visit, the PM held meetings with more than 12 global leaders. He participated in three summits and participated in more than 50 engagements.
Modi left Delhi for Japan last Friday, May 19 for Japan. From there he reached Papua New Guinea on Sunday and then went on to his final destination Sydney in Australia.
This was an eventful visit through all of its legs in all three nations,
In Japan, Modi met several world leaders during the G7 Summit and discussed various issues with them. This included US President Joe Biden and Ukraine President Zelenskyy and UK Prime Minister Rishi Sunak amongst others.
The PM also participated in the third in-person Quad Leaders' Summit in Hiroshima, Japan on May 20, 2023, along with Prime Minister Anthony Albanese of Australia, Prime Minister Fumio Kishida of Japan and President Joseph Biden of the United States of America. PM Modi also unveiled the bust of Mahatma Gandhi in Hiroshima
Unprecedented scenes panned out as the prime minister of Papua New Guinea came to the airport to receive PM Modi and was seen touching the feet of India's PM as a mark of respect.
Two top honours followed as PNG conferred the Companion of the Order of Logohu to PM Modi for championing the cause of unity of Pacific Island countries and spearheading the cause of Global South. Very few non-residents of PNG have received this award, including former US President Bill Clinton.
It's a big honour for India.
PM Modi was also conferred the highest honour of Fiji by the PM of Fiji: Companion of the Order of Fiji in recognition of his global leadership. Only a handful of Non-Fijians have received this honour to date.
Apart from his meetings with the PM of Australia and Modi met leaders from industry and investment firms in Sydney. But the highlight was the grand reception by the Indian community for PM Modi which was also attended by Australian PM Anthony Albanese, who heaped huge praises on PM Modi for his leadership qualities.