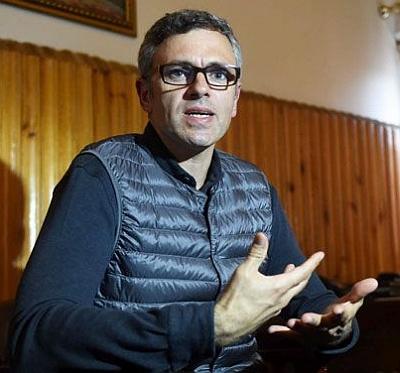 Deprecating Prime Minister Narendera Modi's attacks abroad on previous governments, former Jammu and Kashmir Chief Minister Omar Abdullah on Sunday saw it as a part of "that whole thing of about me, myself and I alone".
Abdullah, also a former Minister of State for External Affairs, said it was wrong for Modi to criticise the opposition during his foreign visits or say that people felt ashamed of being born Indian till he became prime minister.
"That is something that I don't approve of. To go abroad and target your political opposition or to say that people were embarrassed to be an Indian till I came along as prime minister, I think it is wrong. It again is part of that whole thing of about being me, myself and I alone," Abdullah told the Press Trust of India in New Delhi.
He also took a dig at Modi, saying: "Because the implication of that is he himself was embarrassed to be Indian until exactly one year ago. Which means that he did not get a visa to go to America but everywhere else that he went as chief minister of Gujarat, he was actually embarrassed to show has passport.
"And he probably apologised to every immigration official saying 'Look I am really sorry it is an Indian passport, main kyan karun, mujhe badi sharam aah rahi hai, lekin mujhe dikhana padega (what should I do, I am very ashamed but I have to show my passport)'. That is the implication of what he is saying, which is wrong."
During his recent trips to China and South Korea, Prime Minister Modi had said Indians were ashamed of being born in the country before his government came to power. His remarks have evoked sharp reactions from various political leaders.
Modi's remarks had also drawn criticism on social networking sites including Twitter, with the hashtag #ModiInsultsIndia trending on the top.
Noting that Modi does not travel as leader of the Bharatiya Janata Party, Abdullah said, "He (Modi) is going as the representative of 125 crore Indians which he himself says."
He also said that during his foreign visits, Modi "needs to leave the campaign behind and focus just as prime minister".
However, Abdullah praised Modi for inviting leaders of the SAARC nations for his government's swearing-in last year and his interactions on the global stage.
'India can't be micromanaged'
Omar recalled Modi's stewardship of Gujarat and said, "Running a state and running a country are two very different things. It's tough enough to micro-manage a state, even a state like Gujarat. It's impossible to micro-manage a country and a country the size of India you can't do it.
"And therefore if every decision has to be sort of looked at a micro level right up to the Prime Minister's Office, it's not going to happen," Omar said.
When asked about the perception that PMO was micro-managing the affairs, Omar said, "Look, I am not sitting in PMO. I am not in the Cabinet. I am just telling you that the perception one has talking to friends in government and in business picking up from what the media has to say, there is no doubt that decisions that needed to be taken are not being taken. And the general perception is that's because the PMO... very heavy PMO is involved in all these decisions."
On the performance of the Modi government, he said "... the prime minister and his ministers are victims of their own campaign. They raised expectations to a place where delivery was always going to be difficult and impossible."
He said people had lot of expectations especially because after a long time, a single party had come to power.
"People expected a lot more in terms of delivery on some tricky issues that he has been promising and clearly that has not been happening -- whether it is the economy, whether it is areas to do with defence and other governance related issues. Simple matters like putting a right person in right place for bodies like vigilance commission and information commission," he said.
"It's actually surprising how such a chief minister, who was known to be decisive, has allowed a situation where he has allowed a perception where his government is seen indecisive on crucial areas," he said.
The posts of CVC and CIC have been lying vacant since September and August last year.
"And that's why as I said this perception that crucial decisions are held up on statutory bodies whose leadership needs to be put in place, it's a telling sign.
"That one year into the government you don't have the Information Commissioners. Till recently we had one-man Election Commission. Other organisations also require to be taken care of," the former chief minister said.
He made it clear that a country like India cannot be run "as a one man show. It simply can't".
Omar said a year was enough time for them to realise that it doesn't work.
This government, and the prime minister in particular, "is very sensitive" to what people say, particularly on social media, and it will be not long before Modi picks up that "it's not working and needs to go back to the drawing board."
On the internal front as far as Jammu and Kashmir is concerned, he expressed clear disappointment saying, "For me the biggest test of this prime minister was helping the people of Jammu and Kashmir affected by the floods of last year. And in that this government has single-handedly failed the people of the state.