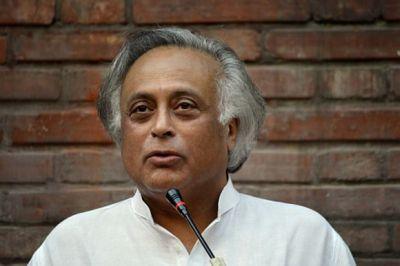 Narendra Modi speaking about Lokayukta is like Asaram "talking about virginity", Union Minister Jairam Ramesh said on Monday, hitting back at the Bharatiya Janata Party prime ministerial candidate.
The Union rural development minister, who is no stranger to controversial remarks, drew an analogy with the disgraced self-styled godman who is facing charges of sexual assault when he was asked about Modi mocking Rahul Gandhi on the issue of Lokpal Bill at a rally in Uttarakhand on Sunday.
Modi had questioned why Congress, which is pushing the Lokpal Bill, was not implementing Lokayukta act brought in by the previous BJP government headed by B C Khanduri in Uttarakhand.
Ramesh said that the Gujarat chief minister, who did not appoint a Lokayukta for 10 years in his state, has no right to speak on the issue of the anti-graft legislation.
"A guy who didn't appoint a Lokayukta for 10 years is hardly the person to speak about Lokayukta. For 10 years he didn't appoint a Lokayukta and he is giving 'updesh' (sermon' on Lokayukta. This is like Asaram talking about virginity," Ramesh told reporters.
Self-styled godman Asaram Bapu, who allegedly sexually assaulted a minor, is in judicial custody in Jodhpur jail since his arrest in September.
Ramesh termed Uttarakhand's Lokayukta Act a "joke" and said that "there was some problem" with the legislation. He, however, did not elaborate.
Drafted at a time when Anna Hazare's agitation for a Lokpal Bill was at its peak, Uttarakhand Lokayukta Bill was passed unanimously by the state Assembly on November 1, 2011 after Khanduri took over the reins in the state for a second time in September, 2011.
Though given presidential ascent after a two-year wait in September this year, the Act is yet to be implemented in Uttarakhand as Chief Minister Vijay Bahuguna wants to bring it into force only after certain amendments.
Uttarakhand Lokayukta Act brings under its ambit the chief minister, ministers, MLAs and bureaucrats among others.
Image: Union Minister Jairam Ramesh
Photograph: Reuters