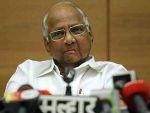 Union Agriculture Minister Sharad Pawar today slammed Gujarat Chief Minister Narendra Modi for "spreading lies and misguiding" people on the issue of expenses incurred on Congress president Sonia Gandhi's foreign tours.
"Despite Prime Minister's Office issuing a statement that Centre has not spent anything on her (Sonia's) visits and treatment, the chief minister (Modi) is spreading lies and misguiding people of Gujarat," he said.
Pawar was addressing the 5th National Convention of his party at Atladara on the outskirts of the city.
The NCP chief said the chief minister was "disrespecting" people of Gujarat by raising baseless issues.
"During his month-long Swami Vivekananda Yuva Vikas Yatra, he (Modi) has been raising the issue of expenditure on Sonia Gandhi's foreign visits, Centre's injustice to Gujarat and cotton-growers in Gujarat having suffered huge losses due to Centre's ban on export of cotton," Pawar said.
Taking on Modi over his common refrain of Centre doing injustice to Gujarat and farmers given a raw deal, Pawar said, "We lifted the ban on export of cotton in the interest of farmers. 40 lakh bales of cotton were exported from Gujarat and we will continue to protect the interest of farmers in future as well".
The PMO had last week rubbished Modi's claim that Rs 1,880 crore were spent on overseas visits of the UPA chairperson, saying it was "untrue and misleading". The PMO underlined that the government had spent no money on Gandhi's overseas visits or her medical treatment abroad or in India.
Tearing into Modi government over fake encounters, Pawar said, "the state government tried to justify the encounter killings saying those killed by police had come to eliminate the chief minister".
"Why should one buy bullets and kill the chief minister?, he questioned.
"Some five-six IPS officers and about 20 policemen are behind the bars in the state over fake encounter cases which is unprecedented," he added.