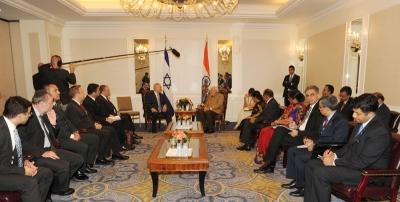 Prime Minister, Narendra Modi met Israeli Prime Minister Binyamin Netanyahu in New York, marking the first meeting between an Israeli prime minister and the prime minister of India in more than a decade.
While the issues of water management and purification in India came up during Prime Minister Narendra Modi's meeting with his Israeli counterpart Benjamin Netanyahu in New York on Monday, no specifics on the subject were discussed.
The issue was discussed between the two in the context of urban cities in India. Modi mentioned to Netanyahu that about 30-35 per cent of India would be in 500 cities and these cities are growing exponentially and therefore they would need assistance in terms of water management as well as water purification.
The Israeli prime minister did mention of Tel Aviv's expertise in these but this was in the context of a general discussion only, Indians officials here said.
Netanyahu extended an invitation to Modi to visit Israel at an early date and noted that the last time he visited the country was when he was the chief minister of Gujarat. He hoped that he could now visit as prime minister.
Modi assured his Israeli counterpart that the invitation for the visit would be discussed further through diplomatic channels.
There was also a discussion in terms of defense ties between the two countries and Modi told him that 'Make in India' was a priority for him. Modi also explained that in defence sector which has been opened up, Israel, or for that matter any other foreign company can invest up to 49 per cent.
Modi also made a pitch for investments from everywhere, including from Israel, given India's market and the ability for technologies to be absorbed in India.
Netanyahu mentioned that there were potential areas of cooperation, for example in computer software, noting that both Israel and India have expertise in these areas. "They also discussed matters relating to cyber security and the importance that it will play in any society which will be driven through information technology in the future; and the possibilities of cooperation in that," the official said.
Image: Prime Minister of Israel Benjamin Netanyahu meeting Prime Minister Narendra Modi in New York. Photograph: PIB