'Of all the areas that define the future for a strong US-India partnership, none is more important than our defence and security ties.'
Aziz Haniffa/Rediff.com reports from Washington, DC.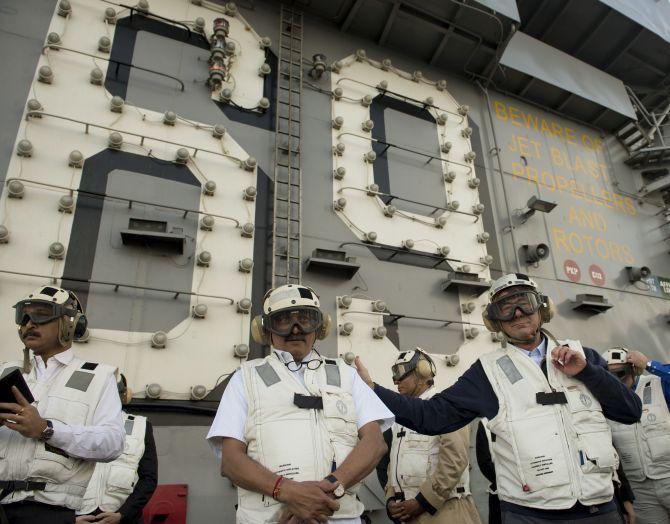 IMAGE: US Defence Secretary Dr Ashton Carter and Defence Minister Manohar Parrikar aboard the USS Dwight D Eisenhower. Photograph: Senior Master Sergeant Adrian Cadiz
The Obama administration's point person for South Asia, Nisha Desai Biswal, was circumspect when asked directly by members of the Senate Foreign Relations Committee if any security cooperation agreements were on tap when Prime Minister Narendra Modi visits Washington, DC for yet another working summit with President Obama on June 7.
Assistant Secretary of State Biswal, appearing before the Senate Foreign Relations Committee to discuss the topic of US-India Relations: Balancing Progress and Managing Expectations, said, 'We have already strengthened our security cooperation on a number of fronts and certainly (Defence) Secretary (Ash) Carter's visit earlier this year (to India) was key in advancing many of those things.'
'We are looking at what additional areas we can engage in to deepen that cooperation,' she said, and noted, 'We just launched a Maritime Security Dialogue, and we have, as I noted, undertaken a great deal of activity in terms of co-production and co-development of various next generation technologies and we are looking to see if there are additional things that we can conclude during the prime minister's visit.'
Biswal disclosed that 'We are hopeful that progress will be made on some of the foundational agreements, including the Logistics Agreement -- that it might be concluded prior to the visit (which makes it likely that there will be a formal signing by Obama and Modi) and we are looking to see if there are other things that we can take on board.'
Asked if the US-India civilian nuclear deal that has remained in limbo for the past eight years in terms of implementation, may see some tangible movement, the senior State Department official said, 'I do believe that issues that bedeviled progress on the civil nuclear deal being implemented and having a commercial viable deal take place, have been issues of liability, and under the previous administration there had not been an ability to move forward on liability concerns.'
'The breakthrough understanding that President Obama and Prime Minister Modi achieved last January on his Republic Day visit was with this particular issue of liability,' Biswal noted.
'India,' she said, 'has subsequently ratified the International Convention on Supplementary Compensation and has therefore confirmed and attested that its liability laws will be in compliance with the international convention.'
'India,' Biswal pointed out, 'has also moved to establish aninsurance pool that can again help address issues of liability. We believe that the steps that India has taken has addressed by and large the key concerns that had been in place and it is now for US companies to make the commercial determinations.'
'I believe that it is going to be different for each company,' Biswal acknowledged and said, 'There are companies that are moving aggressively forward on pursuing a commercial deal and are quite close, and there are companies that are perhaps have a different risk perception and are moving a little bit more cautiously in that space.'
'Those are going to be individual determinations that companies are going to have to make in terms of what the risk profile is that they are comfortable with,' Biswal said, 'but we believe that the commitments are in place and largely address the concerns that we had raised with them very consistently over the past decade.'
Earlier, in her testimony, Biswal said, 'When President Obama welcomes Prime Minister Modi to Washington next month, we will be able to say with confidence that relations between our two great democracies have never been stronger, even as both sides recognise there is much more to be done.'
'Of all the areas that define the future and help frame the stakes for a strong US-India partnership,' Biswal said, 'none is more prescient and important in my opinion than our defence and security ties,' and argued, 'without ensuring the safety and security of our democracies, the other areas of cutting-edge cooperation would simply not be possible.'
'Our defence and security partnership with India is critically important to securing US interests in Asia and across the Indo-Pacific region,' she said.
'As you probably read after Secretary Carter's recent visit to India,' Biswal noted, 'we are moving toward concluding a logistics exchange memorandum of understanding, which would allow our armed forces to use each other's bases for re-supply and repair.'
'We are hopeful that the successful conclusion of this agreement will lead to progress on the remaining foundational agreements and allow greater interoperability in our militaries, so that we can go from joint exercises to coordinated operations in the Indian Ocean,' Biswal added.
'The Maritime Security Dialogue,' she explained, 'provides an important channel to discuss such cooperation -- it was launched under the auspices of the our Joint Strategic Vision and met for the first time this month, co-led by the Departments of Defence and State.'
'All of these efforts,' she said, 'are built toward enabling India to become a net provider of security in the Indian Ocean region and beyond.'
'We have also expanded our cooperation with India to combat terrorism and violent extremism,' Biswal noted, 'and continue to work toward finalising a bilateral agreement to exchange intelligence and terrorist watch-list information.'
'This cooperation, which includes regular training through the State Department's Anti-Terrorism Assistance programme, as well as joint sponsorship of terrorist designations at the United Nations, has made both our nations more secure,' she added.
'Underpinning all elements of our relationship are our people-to-people ties,' Biswal said, 'which have grown stronger than ever throughout this administration.'
'Our efforts to promote tourism have paid off handsomely, with the number of Indian visitors to the United States going from less than 550,000 in 2009 to over 960,000 in 2014, while their spending nearly tripled over the same period, to $9.5 billion.'
'The number of Indian students studying in the United States increased over 30 percent from 2009 to 2015, reaching over 130,000 and bringing an estimated $3.6 billion into the US economy,' she pointed out.
'Overall,' she said, 'our long-running US government exchange programmes have graduated over 15,000 alumni from India, including six current and former heads of State, 35 members of parliament, 11 chief ministers, and other leaders in business, civil society, academia, and the arts.'