PM kick-started Assam poll campaign on Saturday.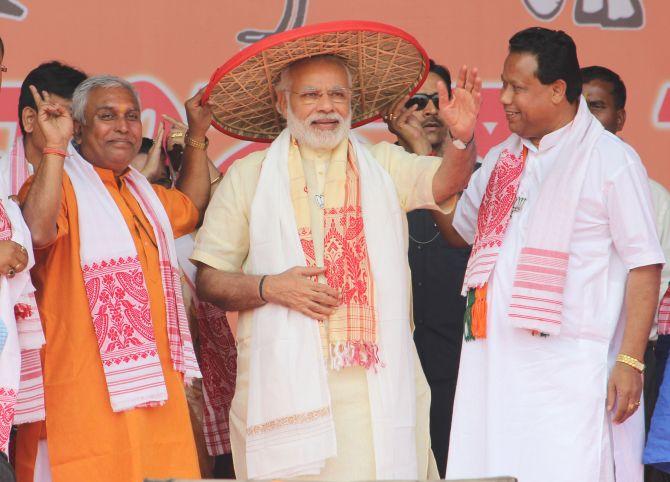 Prime Minister Narendra Modi being felicitated with traditional Assamese 'Japi' during a BJP rally at Tinsukia in Assam on Saturday.
Wooing voters in Assam with a promise of 'fast, all-round development', Prime Minister
Narendra Modi on Saturday said his fight was not against Chief Minister Tarun Gogoi but against 'poverty, corruption and destruction' of the state under Congress rule.
"I have three agendas. Development, fast development and all round development," he said at an election rally here as he hit the campaign trail and claimed his government had allocated many times more funds for state's infrastructure than the previous governments.
Trying to connect with the crowd, he touched on his early days as a tea-seller, saying he sold their tea to energise others and due to his he shares a special bond with the people of Assam, a large tea-producing state.
The PM also took a swipe at 79-year-old Gogoi who had called the assembly election as a direct fight between him and Modi, saying he can only pay his respects to the elderly leader.
He heaped praise on Bharatiya Janata Party's chief ministerial candidate Sarbananda Sonowal, describing him as one of his best ministers.
"The leader of Congress who will turn 90 in a few years says his fight is with Modi. Respected chief minister, you are an elder and I am young. I pay my respects to you. In our culture, the young do not fight their elders and the elders give their blessings to them.
"My fight is not against Gogoi but against poverty, corruption and destruction of Assam. I am not fighting against any individual," he said.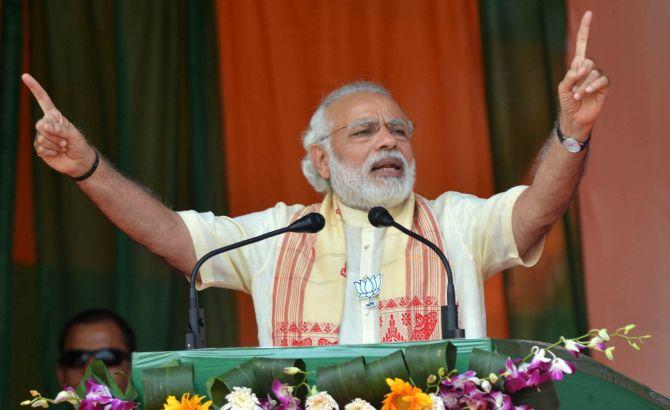 Prime Minister Narendra Modi addresses an election rally in Tinsukia, Assam on Saturday.
The PM said if Sonowal becomes the chief minister, it will be his government's and his personal loss because Sonowal is one of his best ministers and 'a bright, capable and simple person'.
"There is only one 'anand' (joy) in Assam, it is Sarbananda,' he said.
Modi, however, made no mention of the contentious issue of infiltration, a major poll plank of the BJP-led National Democratic Alliance, and chose to stick to his development theme and lack of progress in Assam.
He said the state was among the five most prosperous states after Independence but is among the five least developed states now and blamed successive Congress governments for this.
Modi appealed to Assam voters to give BJP and its allies five years to correct 60 years of Congress 'misrule' in the state.
"You give me five years, you give Sarbananda five years and BJP and its allies will pull Assam out of its difficulty," he said.
"Today after 60 years under Congress rule, Assam has become the fifth poorest state in the country. No development, youth are unemployed today, no electricity and drinking water. Who brought about this condition of Assam?"
"Every village should get electricity for bringing in development, good education, to run mills and see TV. But even after 60 years of Independence even electricity poles have not reached 1,000 villages in Assam," Modi said.
Noting that Assam has immense water resources, the mighty Brahmaputra and heavy rainfall, he said, "Yet what can be more painful than seeing people here do not have drinking water. The Congress government is responsible."
"Money was given from Delhi for building houses for the poor here. But that money has not been spent and is lying unused in the bank. If this continues there will be no development in Assam. Gas is produced in Assam. Do the poor get gas in their homes here? We have decided to provide 5 crore poor gas to replace their smoky cooking stoves," he said.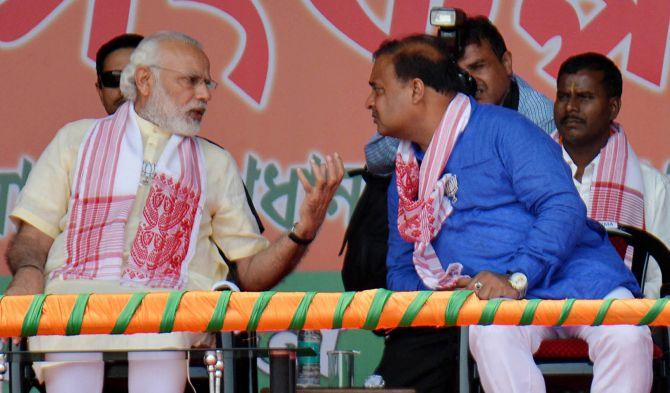 Highlighting a number of developmental schemes of the Centre, Modi projected his government as one 'for the poor' as he spoke about the decision to allow small shops to remain open seven days a week.
Modi said his government had electrified over 1,000 of the 2,000 Assam villages, where power had not reached yet.
Citing a Comptroller and Auditor General report, he said the Gogoi government did not provide answers to its queries on whereabouts of money and asked people to give their answer on April 4 through EVMs (Electronic Voting Machines).
"Even a prime minister can inaugurate one, two or three projects by pressing a button. You can start a new era of development by pressing the EVM button. Your power is more than that of a prime minister," he told the rally.
The state is going to the polls on April 4 and 11.
"With you I want to bring development to Assam, provide job opportunities to the youth, electricity to villages. We have given funds for development of Assam's infrastructure, railway. To fulfill the dreams of the youth I ask for your blessings," Modi said.
He claimed the state government had been able to spend only one-fourth of the funds provided to it by the Centre.
"Please mark my words. Children will be taught 'A for Assam' after this election.... Assam is going to get a young chief minister after the polls," he said, while urging people to vote for the BJP.