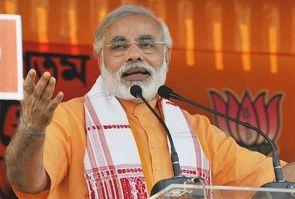 Former Lok Sabha Speaker P A Sangma on Tuesday drew comparisons between Gujarat Chief Minister Narendra Modi and Atal Bihari Vajpayee, saying that the BJP strongman is a good administrator but lacks secular credentials unlike the erstwhile Prime Minister.
"Modi has tremendous capacities and will power to transform... he is a good administrator but the only drawback is his non-secular credentials," he said.
"His qualities resemble (Atal Bihari) Vajpayee. He has proved his abilities in Gujarat but when it comes to leading the nation, if at all BJP-led NDA comes to power in 2014, it will be a great challenge for him...he will be more concerned about good governance," Sangma told PTI in an interview.
On 2002 Godhra riots haunting Modi, Sangma said, "When country can forget the demolition of Babri Masjid, people will also forget the Godhra riots."
"India has enormous capacity to absorb crises," he said on the Babri issue.
Sangma also ruled out early elections.
On the post-election scenario, he said the prospects of the Federal Front mooted by West Bengal Chief Minister Mamata Banerjee were dim.
There are several like Mulayam Singh Yadav, Lalu Yadav and others to lead and therefore it will be a mess, he felt.
On BJP-JD-U's severed ties, Sangma said the latter will be the sufferer in the forthcoming Lok Sabha polls.