The book 'India and the UN: 70 years' presented by Prime Minister Narendra Modi to UN Secretary General Ban Ki-moon illustrates the perspective that India has brought into the United Nations.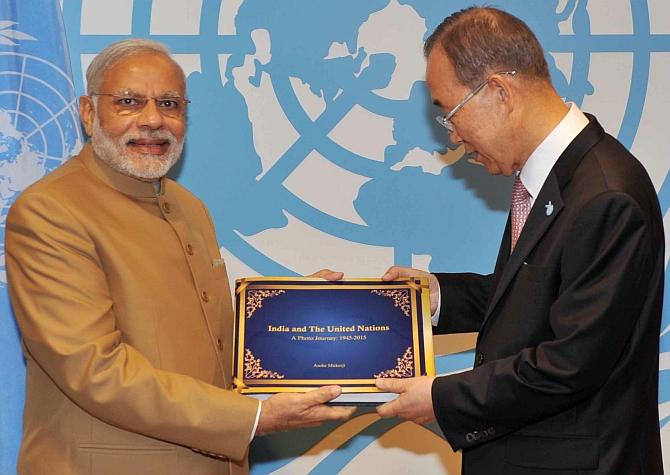 The idea for this publication written by India's Permanent Representative to the United Nations, Asoke K Mukerji, grew out of a conversation in mid-December 2014, soon after the United Nations General Assembly had adopted its historic resolution establishing the International Day of Yoga.
The book throws light on the unprecedented solidarity of 177 Member States of the United Nations, who had joined hands to co-sponsor this Resolution, demonstrated that the overwhelming majority of the international community could come together, if asked, to articulate a common, holistic message emphasizing the harmony between humanity and the world around it.
Click HERE to see the E-book version
Stepping back in time to put this event in a wider context, this book illustrates how India and the United Nations have influenced each other over the past 70 years.
The foreword of the book is taken from Prime Minister Modi's letter to the UN Secretary General, which was written as the United Nations approached its 70th anniversary in 2015. The photographs have been selected from more than 800,000 photographs in the United Nations archive.
The book highlights that when India signed the United Nations Charter in June 1945, its territory was divided between British India and a conglomeration of over 560 Princely States.
Yet, most of the principal figures representing India at the formative period of the creation of the United Nations system, went on to play significant roles after India's independence in August 1947 as the builders of modern, independent India.
The perspective that India has brought into the United Nations is routed in India's own political and civilizational ethos.
As this book shows, the United Nations, and especially its specialized agencies, have, in turn, provided a supportive external environment for India. India's evolution as the world's largest, vibrant parliamentary democracy, and India's experience of transforming itself into one of the world's largest emerging economies, have been pivotal in this regard.
Seeing the world as one inter-linked and inter-dependent family, India has sought to share this perspective with the other member states of the United Nations, emphasizing inclusiveness, not exceptionalism, through this book.
Photograph: Paresh Gandhi/Rediff.com