'This speech is going to be more of a punishment. I spoke too much this afternoon.'
A tireless Narendra Modi left over 700 notable luminaries in peals of laughter with his quick wit during a dinner reception hosted by Indian Ambassador Dr Subrahmanyam Jaishankar at the Taj-owned, The Pierre Hotel.
Aziz Haniffa/Rediff.com presents a sneak peak into the festive, grand dinner.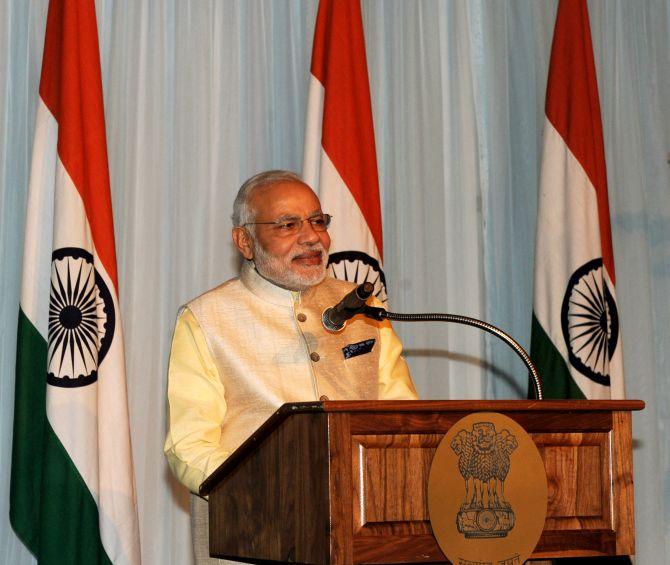 Image: Prime Minister Narendra Modi at the dinner hosted by Indian Ambassador Dr Subrahmanyam Jaishankar. Photograph: Press Information Bureau
Over 700 Indian Americans -- many of them shining stars from the world of politics, culture, arts, music, medicine, technology and other community leaders -- attended Indian Ambassador Dr Subrahmanyam Jaishankar's reception and dinner for Prime Minister Narendra Modi at the Taj-owned The Pierre hotel.

After Dr Jaishankar's welcoming remarks, Prime Minister Modi left the audience in splits as he remarked, "This speech is going to be more of a punishment," a reference to his 90-minute speech at Madison Square Garden on Sunday morning to a cheering crowd of 18,000 fans.
To more laughter, he said, "I spoke too much this afternoon."

Praising desis in America, he extolled them for holding on to their Indian heritage and culture and commended them for their achievements in their adopted country.

"People see and appreciate your contributions. I am very happy for the contributions you have made and I congratulate you for that."

Modi then switched to his mantra of trade and development as the only solution for India's growth and economic progress, and to generate employment in the country. "It should be one-third agriculture, one-third manufacturing and one-third services," he said.

Modi also made a major push for tourism to India, saying this could be a $3 trillion industry and also be a catalyst for India's economic growth.
If all Indian Americans could convince non-Indian families to visit India it would give employment "to the taxi, scooter and even chai-wallahs like me," he said to laughter and applause.

"If you can go in that direction, it would be a service to the nation,"; he said, ending his his 10-minute remarks, saying, "I am very thankful for all of you welcoming me and I give my best wishes to all of you."
Image: Prime Minister Narendra Modi with guests at the reception. Photograph: Press Information Bureau
Several US lawmakers were present at the reception and interacted with Modi. Some of the lawmakers present were US Representatives Ed Royce, chairman of the House Foreign Affairs Committee, Frank Pallone, founder of the Congressional Caucus on India and Indian Americans, and former co-chair of the Caucus, Joe Crowley, the current co-chair of the India Caucus, Jim McDermott, another former India Caucus co-chair, Pete Sessions, chair of the House Rules Committee, Dr Ami Bera, California the only Indian-American lawmaker in the US Congress, and Tulsi Gabbard, the first and only Hindu American in Congress.

During dinner, Dr Jaishankar said, "All of you would agree that the outcome of the general election and the formation of the new government has brought great hope and optimism in India," adding, "These sentiments extend to Indo-US relations as well."

"There are considerable expectations from the prime minister's visit to Washington," the ambassador added, "which includes a White House summit with President Obama. And no one looks forward to its success more than Indian Americans."
Among the senior Obama administration officials present were Assistant Secretary of State for South Asian Affairs Nisha Desai Biswal and Deputy Assistant Secretary of State in the same bureau, Atul Keshap, and Assistant Secretary of Commerce Arun Kumar.

Prime Minister Modi had an interesting group of guests at his table during the dinner with whom he had animated conversation. To Modi's left was Ed Royce while he was flanked on the right by Dr Jaishankar, External Affairs Minister Sushma Swaraj, PepsiCo Chairman and CEO Indra Nooyi and Silicon Valley billionaire entrepreneur Romesh Wadhwani.
At another table, Joe Crowley engaged in earnest conversation with businessman Mukesh Ambani, while at yet another table Pallone and McDermott were seen talking animatedly to Indian Ambassador to the United Nations Ashoke Kumar Mukerji.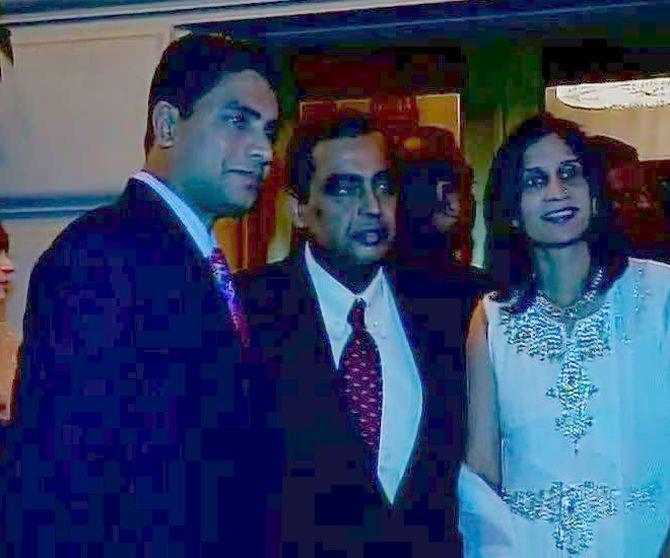 Image: Businessman Mukesh Ambani with guests at the dinner. Photograph: ANI/Twitter
Other notable luminaries present at the dinner were Ajay Banga, CEO, MasterCard, the Indian-American fundraiser supremo for the Republican Party and close friend of the Bush family, Dr Zach Zachariah of Fort Lauderdale, Florida, another major Republican fundraiser and supporter, Armeane Choksi, billionaire entrepreneurs from Potomac, Maryland, Ken and Kavelle Bajaj, Sharad and Mahinder Tak, Democratic Party fundraisers and philanthropists Ranvir and Adarsh Trehan, US Surgeon General nominee Dr Vivek Murthy, Dr Ravi Jahagirdar, president, American Association of Physicians of Indian origin.
Also present were, of course, the key organisers of the Madison Garden extravaganza, Dr Bharat Barai and Dr Kiran Patel, community activists Swadesh Chatterjee, a Padma Bhushan awardee, Ashok Mago, Dr Sambhu N Banik, K V Kumar, Subhash Razdan, Sampat Shivangi, president, Indian American Forum for Political Education, Chandrakant Patel.

Other notable names present were Prakash Mehta, a partner at Akin Gump, one of the country's leading corporate lawyers, Sonal Shah, co-founders, IndiCorps, and Indiaspora founder M R Rangaswami.
Please click here for the full coverage of Prime Minister Modi's US visit.