'He brings fresh ideas and leadership.'
'Modi is bold, doesn't care about criticism.'
George Joseph/Rediff.com speaks to guests at the Madison Square Garden event.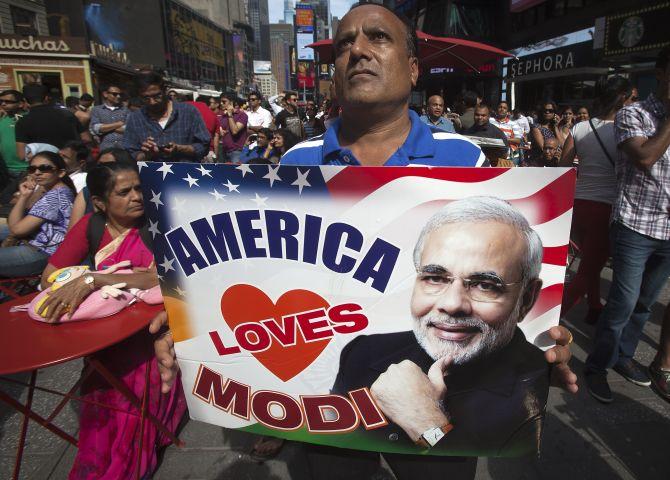 Image: A Modi supporter holds a placard outside Madison Square Garden. Photograph: Carlo Allegri/Reuters
For Abeezar Tyebji, a Bohra community leader from Houston, "the promises that Modi made during his speech was what most attractive about the speech. It was refreshing to hear his speech."
"The promise that he would not do anything to shame the Diaspora touched my heart the most," said Tyebji, who was one of the 150 members from the community present at Madison Square Garden to hear Prime Minister Narendra Modi's speech on Sunday morning.
When asked why he was supporting Modi at a time that many others from his community were opposing him, Tyebji said, "He brings fresh ideas and leadership. As Gujaratis we feel proud of him. If what he did to develop Gujarat can be replicated at a national level, it will change the face of the county."
When Rediff.com asked members from across the community about Modi's speech, they said the promises, the forward thinking and the positivity he stood for was what made the speech so stirring and moving.
Image: The Tyebji family from Houston at Madison Square Garden. As a Gujarati, Abeezar Tyebji said he was very proud of Modi.
For Benoy Thomas, community leader from Washington, DC, the point about the snake charmers and the computer mouse was the most attractive thing in Modi's speech. "Modi in his speech said, 'I was in China some years ago and someone wanted to ask a question. He was hesitant, but I encouraged him to go ahead and ask me. He said he had heard India was the land of black magic and snake charmers. But I said no, our forefathers might have played with snakes but we play with the (computer) mouse,' said Modi, which was what I liked the most."
Sante S Chary, an advisor to the American Association of Physicians of Indian Origin, said Modi's boldness was what made the prime minister's speech a big hit. "He is bold, doesn't care about criticism. Whatever he feels is right, he says. This is what made the speech memorable."
And it wasn't just the hope he presented that gave Modi a rock star reception at Madison Square Garden. His several sops to Indian Americans were welcomed with thunderous applause.
Thomas T Oommen, a long-term activist for reforming passport and visa laws, said Modi's announcement about visa rules was a welcome change. "We expected him to remove the much hated rule for the renunciation of the citizenship of India. Maybe the officials withheld the information from the prime minister. Otherwise, he would have removed it, since he said that he feels blessed when he removes obsolete laws."
He also welcomed the announcement of visa on arrival for American citizens and hoped that it would be applicable to Indian Americans too.
The announcement that the Person of Indian Origin card would now be valid for life was also welcomed with cheers. In his speech, Modi said he would be removing the rule that PIO who stay in India for more than 180 days should register with the Foreigners Regional Registration Officer/Foreigners Registration Officer or local police authorities. He also said the consulates will soon grant long-term visas for visitors from the US.
New York hotelier Sant Singh Chhatwal termed Modi a good administrator and a brilliant speaker who will change the face of India. When asked about Sikhs protesting Modi's visit, Chatwal said he did not agree with their views. "Modi has a vision for India and it will benefit the country."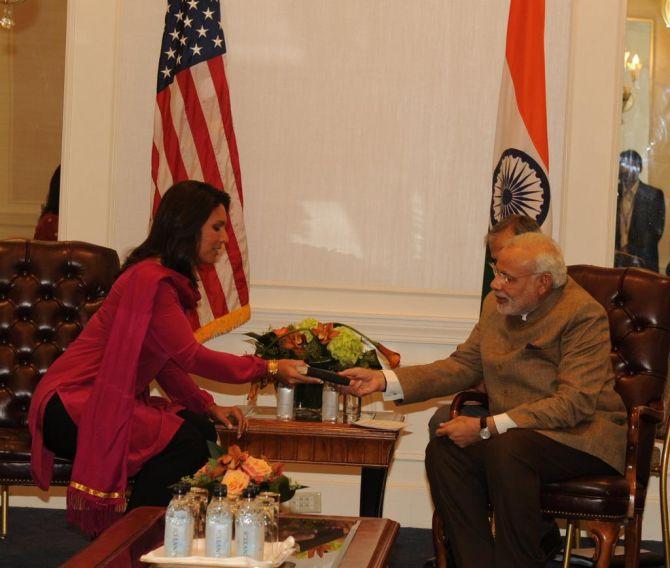 US Congresswoman Tulsi Gabbard presents Modi with the Bhagwad Gita she took the oath of office on. Photograph: MEA/Twitter
US Congresswoman Tulsi Gabbard, the first Hindu to be elected to the US Congress, said Sunday was a day that made her proud. She said she had not visited India, but looked forward to doing so soon. During her meeting with Modi, she gifted him the Bhagwad Gita on which she took her oath of office.
However, the Madison Square Garden event wasn't without incident. Several score people stood outside the arena and protested against Modi and his Bharatiya Janata Party.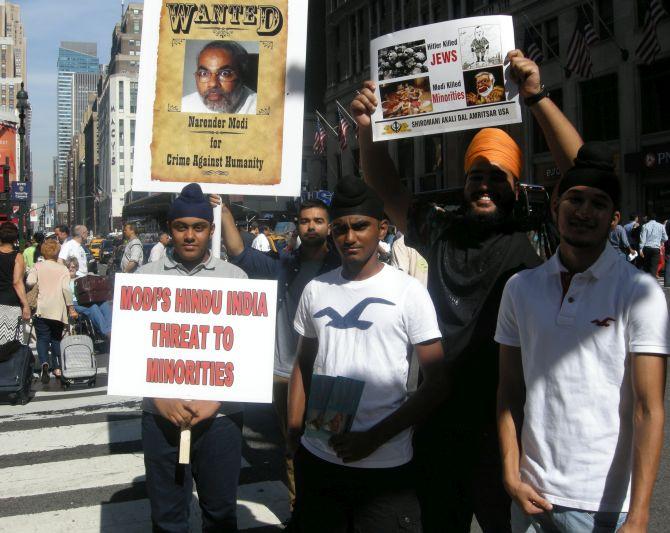 Image: Some Sikh youth protest against Prime Minister Modi near the Madison Square Garden.
When Rediff.com approached a group of Sikhs who were protesting, pointing out that a Sikh delegation had met Modi on Saturday, Jaspal Singh, one of the protesters and a student at Queens College, New York, quipped that those Sikhs must be from Delhi with business interests.
The protestors held posters protesting the Gujarat 2002 riots. When asked about it, Jaspal Singh said, "The riots targeted a minority and all minorities should unite to protest against such things. It happened to Sikhs in 1984. In 2002, it was the turn of the Muslims. If we don't protest, it will happen again."
Feroz Vohra, who was among the protestors outside, said he feared more of crony capitalism than communalism from Modi. "Already the rich are benefitting. Gradually, the common man will suffer. It is not good for anyone," he said.
Sufia Salim, a Boston resident at the protest, said Modi's words were not matched by his deeds. She felt upset that the Muslim community is attacked on such baseless things as love jihad. "Marriage and love is an issue between two individuals," Salim said, "and others should not get involved in it."
Please click here for the full coverage of Prime Minister Modi's US visit.