Narendra Modi's positive engagement with Barack Obama has well and truly washed away the doubts and slights of the past.

Sheela Bhatt/Rediff.com reports from Washington, DC.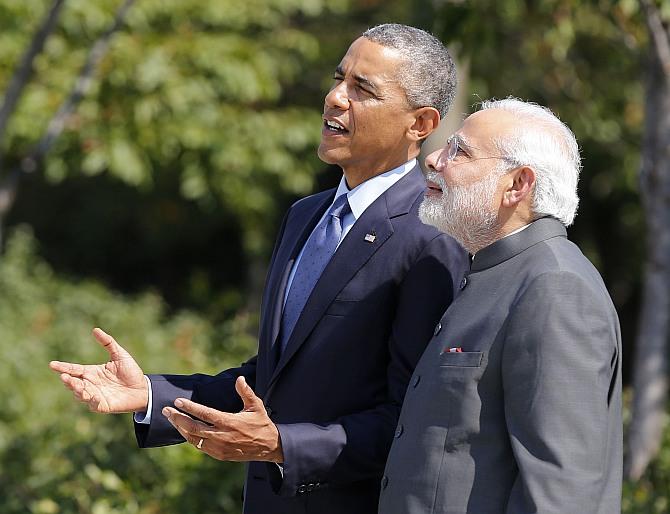 US President Barack Obama and Prime Minister Narendra Modi at the National Martin Luther King Memorial on the National Mall in Washington. Photograph: Larry Downing/Reuters
Prime Minister Narendra Modi has successfully launched himself in Washington, DC.

During his first-ever summit with United States President Barack Obama, the prime minister was looking for more than just political partnership; he sought American help to accomplish his development dreams for India.

What India can do for America or what America can do for India had become outdated questions. What both can do together was what was discussed at the Oval Office at the White House.

Modi not only shared an editorial byline with Obama, but both leaders even walked together at the memorial for Dr Martin Luther King Junior, the legendary American civil rights leader.

The denial of a US visa to Modi was majorly due to the human rights-related issue in Gujarat as perceived by the State Department in Washington.

By his presence with the Indian leader at the memorial, Obama, and in turn the United States, has embraced Modi to uplift India-US relations.

The US is well introduced to Modi now.

Nothing more could be achieved because nothing less than a proper burial of the visa issue was necessary in the first round.

Washington, the city of daily intrigues and many myths, did it in style. No apology or regret, but Modi got enough when Obama shared a byline on The Washington Post article jointly written by him and Modi.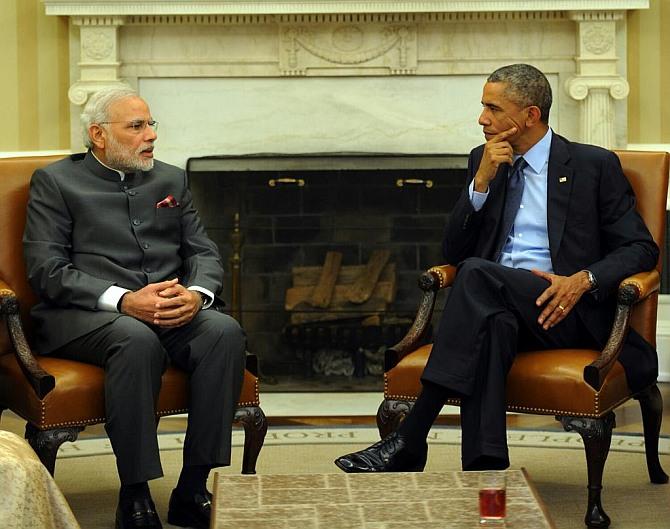 US President Barack Obama and Prime Minister Narendra Modi interact during their summit at the Oval Office. Photograph: Ministry of External Affairs
Vikram Doraiswami, Joint Secretary, Americas, ministry of external affairs, briefed the media before the joint statement was made public.

The talks between Obama and Modi were conducted against the background that this relationship was just not transactional but that "there was a great deal of understanding on how can we do something together."

On India-US cooperation on terrorism, Doraiswami said the two leaders had agreed to make joint and concerted efforts to dismantle safe havens for terror and criminal networks, disrupt all financial and tactical support to the Lashkar-e-Tayiba, Jaish-e-Mohammad, the D Company, Al Qaeda and the Haqqani network.

This was mainly done to cater to the domestic audience in India.

Already high-level intelligence is shared between India and the US and a lot is being done to fight these terror groups.

In the last 10 years, the US has helped India dismantle safe heavens of terror. In cyber security too, both countries have helped each other.

Importantly, Doraiswami said the US acknowledged that India met the requirement to be part of the Missile Technology Control Regime and that it will help New Delhi get membership of the Nuclear Suppliers Group as well.

Both countries decided to set up an inter-agency contact group to expedite all pending issues, including that of civil nuclear liability to implement US-origin civil nuclear power projects in India.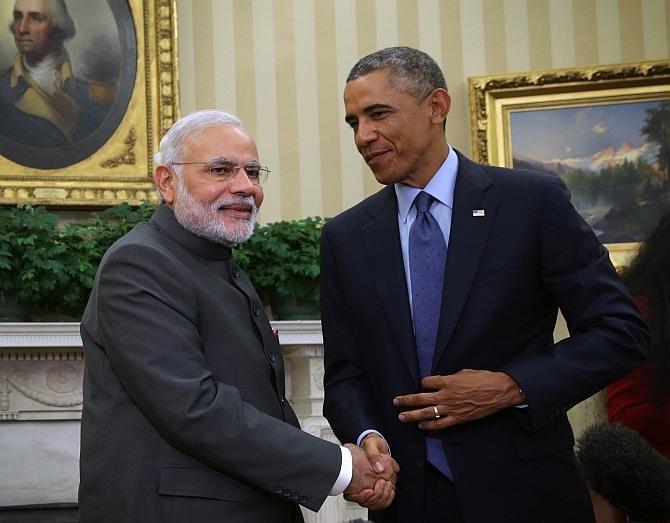 US President Barack Obama and Prime Minister Narendra Modi in the Oval Office. Photograph: Paresh Gandhi/Rediff.com
India and the US also agreed to renew the bilateral defence agreement for ten more years.

Modi's 'Make in India' vision was central in the defence-related talks. A special task force will be set up to highlight the items which can be produced jointly.

The US also reaffirmed its support to India's membership of the United Nations Security Council, which President Obama had first declared in Parliament during his visit to India in Novembver 2010.

India, Doraiswami pointed out, wanted American help in challenges that India has been facing on its path of development, economy and in urban infrastructure.

The two leaders, Doraiswami said, spoke a lot about the Water, Sanitation and Hygiene initiative launched by the United Nations and how India is looking forward to the US to help provide clean water in urban areas.

Modi has put his political weight behind the cleaning of cities, rivers and rural areas in India.

Modi believes that all urban centres in India should clean waste waters with the help of modern waste management technologies imported from the US, Israel or China, and then supply the water for agriculture purposes in surrounding rural areas and keep fruits and vegetables prices under control.

Doraiswami also spoke about how India sought help to develop small and medium scale industries and improve their manufacturing hubs.

The US Federal Bank and the Reserve Bank of India will join hands to share trans-border capital market issues and information.

The tri-lateral partnership involving the US, India and Afghanistan too came up during discussion between the two leaders.

Also part of the 90-minute discussion were topics like education, women's empowerment, combating the Ebola epidemic and cancer, alternative energy and improving the e-governance digital partnership between the two nations.

When asked to identify three factors that suggested that India-US relations had gained momentum, Doraiswami asked, "Why three? We have 30 factors between us, which means that India-US relations are on the fast track now."
Please click here for full coverage of Prime Minister Modi's US visit.