India and China have not ruled out a Modi-Xi meeting during the summit.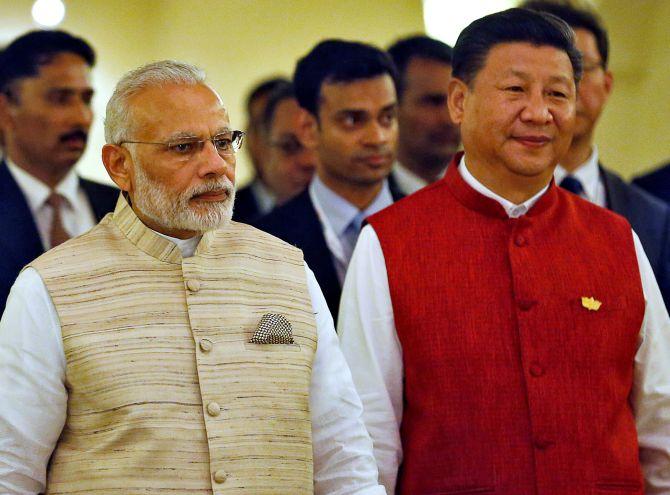 Prime Minister Narendra Modi will arrive in Xiamen, China on Sunday for the BRICS (Brazil, Russia, India, China, South Africa) Summit, where he is likely to meet Chinese President Xi Jinping, days after the two countries ended their 73-day standoff in the Doklam area.
The three-day summit in Xiamen, a southeastern Chinese city in Fujian province, will begin on Sunday even as authorities declared a high alert with Typhoon Mawar expected to hit the coastal region.
The summit will be the first gathering when the leaders of Brazil, Russia, India, China and South Africa will meet after New Delhi and Beijing decided on 'expeditious disengagement' of their border troops in the disputed Doklam area on August 28.
It is likely to provide Modi and Xi their first face-to-face opportunity to discuss the standoff, which had started on June 16 after the Chinese military tried to build a road India feared would allow Beijing to cut off its access to northeastern states.
India and China have not ruled out a Modi-Xi meeting during the summit.
India's External Affairs Ministry has said it was a common practice to arrange bilateral meetings on the margins of such multi-laterals, while the Chinese Foreign Ministry has said it will make arrangements 'if time allows'.
Ahead of the summit, China has also said BRICS was not an appropriate forum for India to raise the counter-terrorism record of Pakistan, its 'all weather' ally.
While External Affairs Ministry spokesman Raveesh Kumar on Friday refused to 'pre-empt' as to what Modi will speak during his intervention at the Summit on Monday, sources said India is expected to flag concerns over terrorism strongly.
At the BRICS Summit hosted by India last year, Modi had described Pakistan as a 'mothership' of terrorism world-wide and sought decisive global action against terror outfits.
The summit was also expected to discuss the course of the BRICS grouping of emerging economies for the next 10 years as it has completed its first decade in existence.
The Xiamen city, which is geographically close to Taiwan and separated by a narrow strip of Taiwan Straits, has been decked up for the high-profile summit.
China has projected high expectations from the Xiamen summit, which will be attended by Russian President Vladimir Putin, South Africa's Jacob Zuma and Brazil's Michel Temer.
The BRICS nations are key players in the world economy and in global governance. Together, the five accounted for 23 per cent of the 2016 global economy, almost double their share in 2006. They contributed more than half of world economic growth in the past 10 years, becoming the strongest engines of the global economy.
BRICS countries account for 44 per cent of world population and have abundant natural and human resources.
In a commentary, China's state-run Xinhua news agency said these BRICS countries have shown no fear of the lacklustre world economy but demonstrated to the world what they can achieve more by staying united.
Established in 2006, the economic bloc has been making steady progress since as its five members have been cementing cooperation, building trust and seeking mutual benefits.
'Although the mechanism has seen ups and downs over the past years and each member faces its own set of challenges, they are like five fingers: short and long when extended, but a powerful fist when clenched together,' the commentary said.
China has invited leaders from five other emerging markets -- Egypt, Guinea, Mexico, Tajikistan and Thailand -- to the summit under its 'BRICS Plus' concept.
Chinese Foreign Minister Wang Yi said the five countries were not permanent invitees but they will participate only this year. He compared their presence to India's invitation to BIMSTEC (Bay of Bengal Initiative for Multi-Sectoral Technical and Economic) leaders for last year's Goa summit.
Looking forward to productive discussions: PM
The PM said he was looking forward to productive discussions and positive outcomes at the summit, noting that it has to make important contributions in upholding peace and security and address global challenges.
'I look forward to building upon the results and outcomes of the Goa Summit. I also look forward to productive discussions and positive outcomes that will support the agenda of a stronger BRICS partnership under the chairmanship of China,' the PM said in a statement.
From Xiamen, Modi will travel to Myanmar on August 5 for a three-day visit.
About his first bilateral visit to Myanmar, Modi said both countries will look at strengthening existing cooperation in areas of security and counter-terrorism, trade and investment, infrastructure and energy, and culture.
On BRICS, the Prime Minister said he will have the opportunity to meet leaders bilaterally on the sidelines of the BRICS Summit.
'India attaches high importance to the role of BRICS that has begun a second decade of its partnership for progress and peace. BRICS has important contributions to make in addressing global challenges and upholding world peace and security,' the prime minister said.
The prime minister said he was looking forward to engage with leaders of nine other countries, including BRICS partners, in an Emerging Markets and Developing Countries Dialogue, being hosted by Chinese President Xi Jinping on September 5.
'We will also interact with the BRICS Business Council represented by captains of industry from all five countries,' he said.
On his Myanmar visit from September 5-7, Modi hoped it will help in charting a roadmap for closer cooperation between the two countries.
He said both countries will review developments in bilateral ties with a focus on 'extensive' programme of development cooperation and socio-economic assistance India is undertaking in Myanmar.
Both sides will also explore new areas of cooperation. The PM said he was looking forward to paying a visit to the famed heritage city of Bagan, where the Archaeological Survey of India has done 'stellar work' in renovating the Ananda Temple, and where it will be undertaking further restoration work on a number of pagodas and murals that were damaged in last year's earthquake.
Modi had visited Myanmar in 2014 to attend the ASEAN-India Summit.
The prime minister will meet President U Htin Kyaw and hold talks with State Counsellor Aung San Suu Kyi.
The Myanmarese president and Suu Kyi had visited India last year.
'I am also keen to meet and interact with the Indian-origin community of Myanmar, whose history goes back more than a century.
'I am confident that the visit will open a bright new chapter in India-Myanmar relations and will help in charting a roadmap for closer cooperation between our governments, our business communities and at the people to people level,' Modi said.