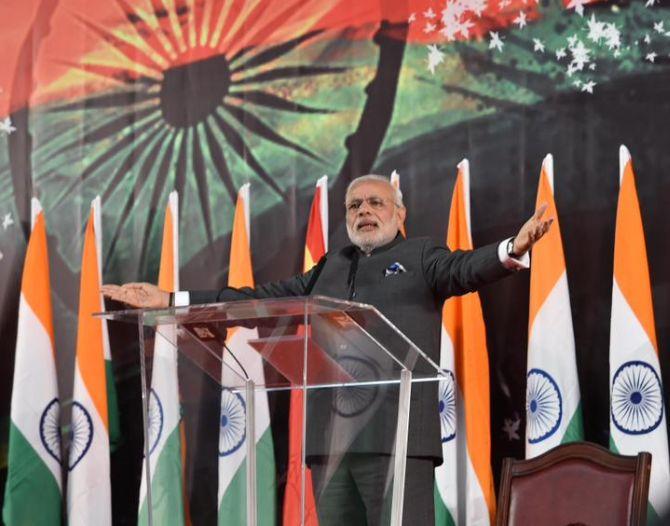 At the end of his 3-day visit to China, Prime Minister Narendra Modi addressed Indians in Shanghai, just like he did at Madison Square Garden during his US visit last year.
Around 5,000 Indians from all across China attended the event.
Here are the salient points the PM made
1) The time is changing at a fast pace. Nobody would have wondered, that in China, so many Indian citizens will be living a peaceful, happy life
2) Just a year earlier, this two and a half hour time difference would have bothered you. You would have been eager to know the results of the elections in India
3) Last year, during this time, you could hear just one thing, "dukh bhare din beetay re bhaiya, sukh bhare din aayo re
4) They used to say - who is Modi? What is he going to do in the global world? Who knows him outside Gujarat?
5) It is the beauty of the Indian democracy that a person, who sold tea at a railway station, can also become the prime minister
6) Politicians tend to forget promises, but I want to tell you that neither will I forget nor will let anyone do so
7) It seems there is a mini-India right here in front of me in Shanghai
8) I'll leave no stone unturned to fulfil aspirations of the country
9) India and China represent one third of humanity. Together we can be a force of good for the entire world
10) Global warming is a situation created by humans, and we hold the power to fight it. We just have to start loving the nature again
11) I am criticised for visiting many countries and working a lot. If working hard is a crime, I would love to do that for my fellow countrymen
12) Every moment of my time is dedicated to the 125 crore people of India
13) More people-to-people contact will increase our strength. There are more Indians living in China than the Chinese residing in India. Thus, the responsibility of Indians is bigger. You should educate Chinese nationals about India
14) If we don't respect our own country, nobody will respect us.