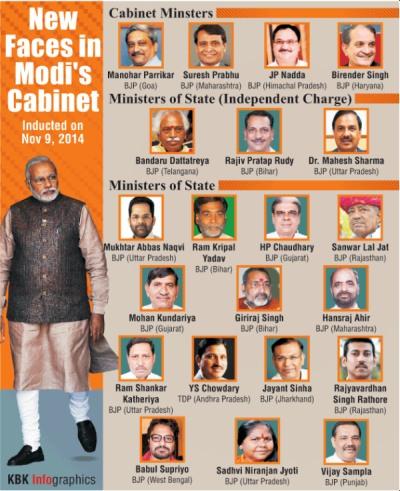 Former Goa Chief Minister Manohar Parrikar and former Shiv Sainik Suresh Prabhu were inducted into the Union Cabinet and given defence and railway portfolios respectively on Sunday as Prime Minister Narendra Modi undertook an expansion of his council of ministers and reshuffled portfolios while bringing in 21 new faces.

Finance Minister Arun Jaitley, who shed the defence portfolio, interestingly got information and broadcasting from Prakash Javadekar, who has now been left with only environment and forests.

New Cabinet ministers J P Nadda and Birender Singh have been given health and rural development portfolios respectively.

Health Minister Harsh Vardhan has been shunted to science and technology and earth sciences.

Transport Minister Nitin Gadkari has been divested of the rural development charge in favour of Singh.

This is the first revamp undertaken by Modi since assuming power in May with the induction of four cabinet ministers, three ministers of state with independent charge and 14 ministers of state.

The strength of the ministry has now gone up from 45 to 66. Of this, 27 including the prime minister are of Cabinet rank, 13 ministers of state with independent charge and 26 ministers of state.

The main focus of the prime minister has been to take away additional charges from several of the ministers and give it to the newcomers in a bid to streamline the functioning of the ministry and to quicken their pace of work.

Two ministers of state with independent charge who were sworn in on Sunday were former ministers in Vajpayee government -- Bandaru Dattatreya and Rajiv Pratap Rudy, who have been given labour and employment and skill development and entrepreneurship portfolios respectively.

Newcomer and first-time MP Mahesh Sharma from Gautam Budh Nagar, bordering Delhi, gets independent charge of Culture and Tourism and MoS in Civil Aviation.

Rudy is also MoS Parliamentary Affairs.

Fourteen other ministers of state were sworn-in. They are Mukhtar Abbas Naqvi, Ram Kripal Yadav, Haribhai Parthibhai Chaudhary, Sanwar Lal Jat and Mohanbhai Kalyanjibhai Kundariya Giriraj Singh, Hansraj Ahir, Ram Shankar Katheria, Jayant Sinha, Rajyavardhan Singh Rathore, Babul Supriyo, Sadhvi Niranjan Jyoti and Vijay Sampla (all BJP) and Y S Chowdary, a Rajya Sabha member from TDP.

Cabinet Minister Ravi Shankar Prasad has retained communication and information technology while being asked to give up the law portfolio.

Nirmala Sitaraman, MoS with independent charge of commerce has shed MoS in finance to newcomer Jayant Sinha, son of former Union minister Yashwant Sinha.

Santosh Gangwar will now only hold the charge of textiles ministry and MoS (independent charge) and has been divested of the charge of MoS Parliamentary Affairs and the MoS, ministry of water resources, river development and Ganga rejuvenation.

The charge of labour and employment has been taken away from Steel and Mines Minister Narendra Singh Tomar and given to Bandaru Dattatreya as MoS (IC).

Colonel Rajyavardhan Singh Rathore has been made MoS information and broadcasting.
Singer-turned-politician Babul Supriyo has been made MoS urban development, housing and urban poverty alleviation.

Gen (retd) V K Singh is the new MoS (independent charge) of statistics and programme implementation, held by Rao Inderjit Singh. V K Singh will also continue to hold the charges of MoS external affairs and MoS overseas Indian affairs.

MoS in PMO, Jitendra Singh gets the additional charge of minister of development of North Eastern region (independent charge) till now held by V K Singh. The charge of ministry of science and technology (independent charge) and earth sciences (independent charge) has been taken away from Jitendra Singh.

Inderjit Singh Rao is now MoS planning (Independent Charge) and MoS defence. He will no longer hold additional charge of statistics and programme implementation.

Shripad Yesso Naik is the new MoS (independent charge) of AAYUSH and MoS health & family welfare, while divesting him from the charges of MoS culture (independent charge) and MoS Tourism (independent charge).

The charge of MoS skill development and entrepreneurship has also been taken away from Sarbananda Sonowal, who now retains only youth affairs and sports (independent charge).

G M Siddeshwara is the new MoS heavy industries and public enterprises shifting him from the civil aviation ministry, now given to Mahesh Sharma.

Nihalchand gets the charge of MoS panchayati raj while Upendra Kushwaha is the new MoS in the human resource development ministry after being shifed from MoS rural development, panchayati raj and drinking water and sanitation ministries.

P Radhakrishnan is the new MoS road transport and highways and shipping while Krishan Pal gets the charge of social justice and empowerment, moving him from road transport and highways and shipping ministries.

Sanjeev Kumar Balyan retains only MoS agriculture shedding additional charge of food processing industries ministry.

Sunday's exercise was marred by the boycott of Shiv Sena which recalled its nominee Anil Desai from Delhi airport back to Mumbai and warned that the party would sit in Opposition if the Bharatiya Janata Party goes with the Nationalist Congress Party in Maharashtra.

The already-strained BJP-Sena ties further dipped when Prabhu, power minister in the Atal Bihari Vajpayee government, deserted the Sena and joined BJP in the morning to take oath as a Cabinet minister.

Prabhu has already been appointed Modi's 'sherpa' for the G-20 Summit.

On a day of dramatic developments, Sena chief Uddhav Thackeray kept the door open saying that the BJP should come clear on whether it wants to take NCP's support in Maharashtra in two or three days.

"If BJP wants to go with NCP, then our path will be different. We are prepared to sit in the Opposition," Thackeray told the media in Mumbai after a meeting with party leaders late in the evening.

The new BJP government in Maharashtra is to face a trial of strength on Tuesday after which the Sena would finalise its strategy vis a vis BJP.

Against Sena's demand for two more Cabinet berths, the party was reportedly told by BJP President Amit Shah that only one post of the Minister of State was possible for Desai. Sena chief Uddhav Thackeray then decided to call it off.

Significantly, Naqvi, BJP vice president and a minister in the Vajpayee government, was only made a minister of state, and Rudy became MoS with independent charge but eyebrows went up when Mahesh Sharma, a first time member of Lok Sabha, was made MoS with independent charge.

Ahir was rewarded for his relentless campaign as a whistle-blower in the coal block allocation scam.

Among those rewarded with ministerial berths were Giriraj Singh, Lok Sabha member from Bihar who had made a controversial statement that the place for those who do not like Modi is in Pakistan and Ram Kripal Yadav, a former RJD leader, who defeated Lalu Prasad's daughter in Patliputra on BJP ticket.

The induction of Rudy, who defeated Lalu's wife Rabri Devi in Saran, Giriraj Singh and Yadav is seen as an attempt to woo various caste groups in Bihar which will go to assembly polls next year.

One-third of today's induction and overall strength of the ministry comes from heartland Uttar Pradesh and Bihar.