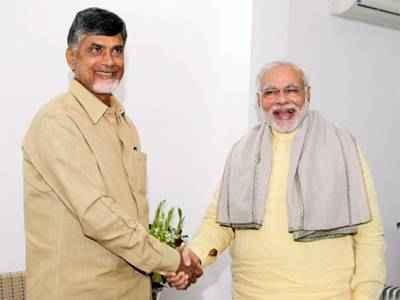 As N Chandrababu Naidu begins his new innings on Sunday as the chief minister of Andhra Pradesh, Prime Minister Narendra Modi assured him "all possible help" and hoped that his administrative experience will be great asset to the state.
He said Naidu's administrative experience and commitment to development will be a great asset in taking Andhra Pradesh to newer heights.
"The Centre is committed to extending all possible help to the people and government of Andhra Pradesh," Modi tweeted.
He also extended his best wishes to him and his team in "developing the state."
Telugu Desam Party president Naidu will be sworn in as the first chief minister of new Andhra Pradesh at a grand function on Sunday evening.
Governor E S L Narasimhan will administer the oath of office and secrecy to Naidu at a public function to be held at Nagarjuna Nagar between Vijayawada and Guntur at 7.27 pm.
A host of dignitaries, including 15 Union ministers, veteran BJP leaders like L K Advani and Murli Manohar Joshi, film stars, besides chief ministers of Gujarat, Chhattisgarh, Rajasthan, Odisha, Punjab and Goa are expected to attend.
Telangana Chief Minister K Chandrasekhar Rao and YSR Congress president Y S Jaganmohan Reddy will not be attending the swearing-in though Chandrababu Naidu has extended personal invitations to them.