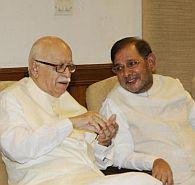 Accusing the Bharatiya Janata Party of forcing it to walk out of the alliance by not being forthcoming on Narendra Modi's future role, senior Janata Dal-United leader Shivanand Tiwari on Saturday said the announcement of a split in the coalition was a "mere formality".
Tiwari also dubbed Modi as an "arrogant" and "divisive personality" who cannot take all sections along.
"We have been looking for a categoric assurance that Narendra Modi will not be the prime ministerial candidate in whatsoever situation, but that has not been forthcoming from them (BJP) during talks to save the NDA amid imminent walk out of the JD-U," the senior JD-U leader told PTI.
"Let is be clear once and for all that the BJP has forced the JD-U to walk out of the alliance by being not forthcoming on Modi's future role," he said.
Tiwari's remarks come in backdrop of reports that Bihar Chief Minister Nitish Kumar has sought a categorical assurance from BJP that Modi will not be the PM candidate.
He said the announcement on JD-U's split from NDA is a mere formality which will take place soon after consultations among the JD-U top leaders, which he claimed, was not required at all in view of "our consistent stand on Modi"
Launching a scathing attack on the Gujarat Chief Minister, he said, "Modi is an arrogant person and this reflects from his personality....his divisive attitude is too well known".
He asked how a secular party like the JD-U can allow such an "arrogant and divisive person to be projected as the prime ministerial candidate."
"Modi's personality does not reflect of a person who wants to bring more people with him, but at the same time no one has any doubt that his name is enough to divide the society," the JD(U) national spokesperson said.
To questions whether JD-U has put conditions before BJP, party president Sharad Yadav said, "We have not put any conditions before BJP. The alliance so far has run on a national agenda which has to be respected by all."
Yadav acknowledged that there are "difficulties in the alliance" but added, "We are trying to sort it out".
"The situation is indeed very difficult. It's not an easy situation. Problems are there inside (the alliance) but attempts are also being made to rectify it," Yadav said.

He said a decision will be taken only after a meeting of party leaders.
The remarks by the JD-U leaders came on a day when tension between the two parties in Bihar showed signs of escalation with BJP leaders refusing to meet Nitish Kumar.
Asked why JD-U is raising the tempo despite the December deadline set by the party for BJP to come up with its prime ministerial candidate, Tiwari said after the Goa conclave of BJP in which Modi was elevated as election committee chief "there is no doubt that the Gujarat Chief Minister will be the BJP's PM candidate.
"What difference does it make whether they announce Modi as PM candidate or not...Modi is behaving as if he is PM-in-waiting," he said.
Tiwari noted that the JD-U and the Bihar Chief Minister's reservation about Modi was not a new thing as the latter was kept out of the elections in Bihar during 2009 parliamentary polls and the assembly polls a year later.
In between, Kumar had cancelled a scheduled dinner for the top BJP leaders during its national executive in June 2010 in protest against publication of an advertisement in local newspapers that showed the two chief ministers together.