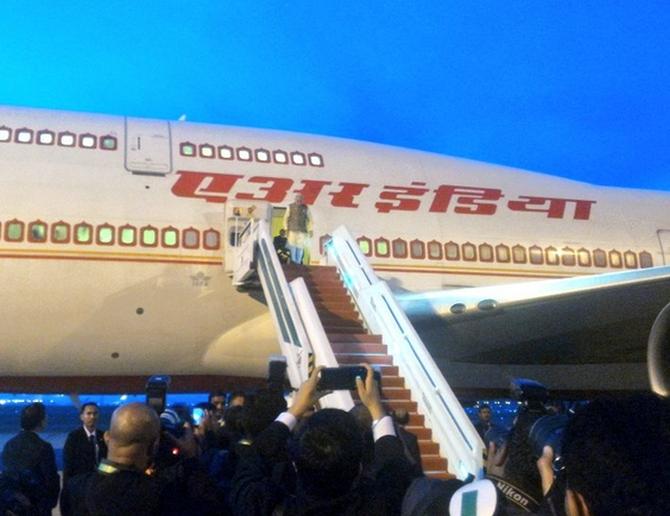 Prime Minister Narendra Modi arrived in Kuala Lumpur on Saturday on a three-day visit to Malaysia during which he will attend two high profile meetings at the ASEAN-India and East Asia Summits.
Modi was received by the high commissioner of India to Malaysia T S Tirumurti.
"Reached Kuala Lumpur. Saturday's programmes include ASEAN Business & Investment Summit, 13th ASEAN-India Summit & one-to-one meetings," Modi tweeted upon his arrival.
Huge billboards welcoming the Indian premier are all over downtown Kuala Lumpur.
There is huge excitement among local ethnic and expatriate Indians who are all eager to meet Modi. At least 50 people, mostly ethnic Indians waited patiently outside the Renaissance Hotel, where Modi is staying, hoping to see him with their mobile phone cameras held high to get that quick snap of the Indian premier.
Lakshmi Logamathy, a 25-year-old secretary, and two of her friends had come to the hotel early in the morning and waited on the low parapet wall outside the hotel foyer to catch sight of Modi getting out of his car.
"I got his picture, I am so proud to have met him," an excited Lakshmi told PTI.
Modi will address the East Asia Summit tomorrow. He will also address the Indian diaspora tomorrow. Modi will also hold talks with top leadership of Malaysia, including his counterpart Najib Razak, on ways to ramp up bilateral cooperation in a range of areas including defence and security and take the strategic ties to a new level.
The two sides are likely to sign a number of MoUs. Combating terrorism is likely to be one of the key issues at the 10th East Asia Summit as nations, shocked by the recent horrific Paris terror attacks, try to step up efforts to stem the menace.
ASEAN is one of the world's fastest growing regions and both sides are likely to seek greater economic engagement besides expanding cooperation in areas such as maritime security including freedom of navigation, drug trafficking and cyber crime.
ASEAN is India's fourth largest trading partner and India is the sixth largest trading partner for the ten member grouping.