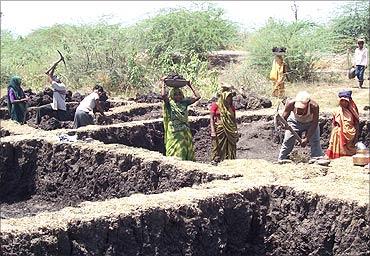 India's rural employment guarantee programme Mahatma Gandhi National Rural Employment Gurantee Act has been ranked as the world's largest public works programme, providing social security net to almost 15 per cent of the country's population, the World Bank has said.
India is among the five middle-income countries running the world's largest social safety net programmes, said a World Bank Group's report 'The State of Social Safety Nets 2015'.
"The world's five largest social safety net programmes are all in middle-income countries (China, India, South Africa and Ethiopia) and reach over 526 million people," it added.
The combined spending on social safety nets in 120 developing countries amounted to about USD 329 billion (around Rs 2 lakh crore) between 2010 and 2014, it said.
But, the report said, three quarters of the poorest people in low-and lower-middle income countries, and more than one-third of the poorest people in middle-income countries, lack safety net coverage and remain at risk.
India's Mid-day meal scheme has been classified as biggest school feeding programme benefiting 105 million beneficiaries.
The top honours for public works programme went to MNREGA with 182 million beneficiaries or 15 per cent of India's population.
The World Bank ranked the Janani Suraksha Yojna with 78 million beneficiaries as the top-most social security programme with conditional cash transfers.
Also, it ranked the Indira Gandhi National Old Age Pension Scheme as the second-largest unconditional cash transfer social security progamme in the world.
Initiatives such as the Unique Identification hold the potential of improving coverage, implementation, and coordination across programmes in the future, it said.
In addition, there are many state-level initiatives aimed at increasing performance of social protection programmes utilising information technology and innovations.
The report follows the recent joint statement by the heads of the World Bank Group and the International Labour Organisation, endorsing the goal of universal access to social protection -- including safety nets -- by 2030.
"The World Bank Group and the ILO share a vision of social protection for all, a world where anyone who needs social protection can access it at any time," said Jim Yong Kim, World Bank Group President and Guy Ryder, Executive Director, ILO, in their joint statement.
The Group's Senior Director for Social Protection and Labor Arup Banerji said more countries at all income levels are investing in social safety net programs because they are transformational.
"There is strong body of evidence that these programmes ensure poor families can invest in the health and education of their children, improve their productivity, and cope with shocks," he said.
The report further stressed on the need to improve the efficiency of social safety net programmes by strengthening countries' capacity to target, integrate, administer, and evaluate social protection programmes, such as social and beneficiary registries.
Well-designed programs are cost-effective, costing countries only between 1.5 per cent and 1.9 per cent of GDP -- far less than most government spending on fuel subsidies.
It also said that the safety net programmes must be more efficient and effective to close the coverage gap.
The Third Financing for Development Conference in Addis Ababa next week is an opportunity to ensure that the international community has the means to make the goal of universal access to social protection - including safety nets- by 2030 -- a reality.