The Georgia-based Gandhi Foundation of USA proposes to establish a Gandhi Center in Atlanta.
Once built, this Gandhi Center will serve as the national headquarters for the Gandhi Foundation. The foundation is an organization dedicated to celebrating and fostering the impact that the methods and message of Mahatma Gandhi has had on American society, right from the days of the Civil Rights Movement.
Dr Martin Luther King Jr became an ardent admirer of Gandhi while studying at Morehouse College in Atlanta in the 1940s. He considered the Mahatma his social and political mentor. By utilizing Gandhian methods of non-violent civil resistance against social injustice, African Americans finally won equal rights without bloodshed.
Foundation Executive Director Giriraj Rao -- who had a key role in the installation of the Gandhi statue at the Martin Luther King National Historic Site located at Dr King's home at Auburn Avenue, in Atlanta,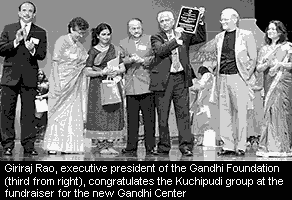 Georgia in 1997 -- addressed the audience at the first fund raiser at the Georgia State University, Atlanta, to raise contributions for the proposed center. Rao said the MLK National Historic District was the most appropriate location for the new Gandhi Center since it was the place where King began implementing Gandhi's methods of non-violent civil resistance to achieve social justice.
Dr Joy Berry, one of the directors of GFUSA and on the Georgia Board of Education, discussed the importance of promoting the Gandhi-King connection through the education system. Also present at the fundraiser was Dr Uma Majmudar, a lecturer in religion at Emory University and author of the recently released Gandhi's Pilgrimage of Faith: From Darkness to Life.