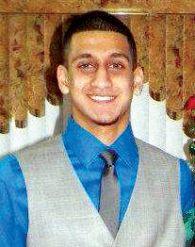 Pravin M Varughese, 19, a student of Southern Illinois University, who had been missing for a week, was found dead on February 18.
His body was recovered from a wooded area in Carbondale, Illinois, police said.
Pravin, whose family lives in Morton Grove, Chicago, was a student of criminology and criminal justice and aspired to become a law enforcement officer.
He went missing after a party off campus at around 11 pm February 12. Nobody noticed his disappearance till the next day when he failed to attend classes.
A police report was filed and his family and friends from Chicago arrived to help in the search. Fliers were posted all over the town and the family announced a $15,000 reward for information.
The police's statement gave a timeline of the incident, though it did not answer all questions.
'Investigators learned while on West College Street (at the party) Pravin accepted a ride from a recent acquaintance on February 12, just before midnight. Following a dispute, Pravin exited the vehicle at the 1400 block of East Main Street and fled into the wooded area,' the police statement said.
'The difficult terrain and low temperatures are believed to have contributed to Pravin's difficulty finding his way out of the wooded area. Pravin's exact cause of death is still being investigated with the assistance of the Jackson County coroner's office. No foul play is suspected at this time,' it added.
The police have not named the person who offered him the ride. According to the police the said person contacted them on February 17 and told them what happened during the ride. Pravin's body was located following the information.
After he left the party he reportedly tweeted at around 11.17 pm that 'Bloody knuckles . . . guess I was in a fight #backdown.'
His sister Priya said she was not sure what that meant.
'At around 12.30 am, he called a friend in Chicago and she said it sounded like he was running, arguing with someone. But what he was saying wasn't really clear,' Priya said.
His parents Lovely and Mathew Varughese said Pravin used to call home every night, including the day before his disappearance.
A funeral service was to be held February 22 at the Mar Thoma Church in Des Plaines, Illinois, followed by internment at the Mary Hill Catholic Cemetery.
Image: Southern Illinois University student Pravin M Varughese