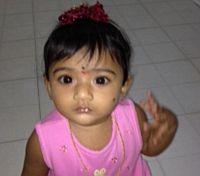 The Philadelphia police have arrested Raghunanan 'Ragu' Yandamuri in connection with first and second degree murders of Baby Saanvi Venna, a 10-month-old Indian girl and her 61-year-old grandmother Satyavathi Venna.
Saanvi who was kidnapped early this week, was on Friday found dead in the basement of an apartment in a Philadelphia township in the United States. The body was found hidden in the men's sauna room at the Marquis Apartment A-building. There was apparent blood on her white dress.
Saanvi was kidnapped and her grandmother was killed on Monday. The authorities had announced a $50,000 reward for information leading to the safe return of the toddler.
According to a complaint filed both by the Montgomery County police and the Upper Merion Township police department, Yandamuri had planned to ask a ransom of $50,000. Yandamuri has also been charged with robbery, burglary and serious body injury.
The complaint says he has admitted that he was responsible for the deaths of the grandmother and Saanvi.
The girl's father, Venkata Konda Siva Venna, and mother, Chenchu Latha Punuru, who are software professionals, were at work when the incident happened. According to the police report, a note was found a few feet away from Satyavathi's body.
Investigators determined there were 10 identical copies of the note which appeared to have been typewritten on a computer.
The note read, "Shiva your daughter has been kidnapped. If you report this to cops your daughter will be cut into pieces and found dead. If you inform this to anyone you will find your daughter body parts thrown into your apartments (sic).Our people are monitoring all your moves all the time. Your email and phones are being traced. If you want your daughter alive and safe, follow our instructions and we want $50,000 by end of the day."
"Your wife Lata have (sic) to bring money to the location alone… "
Raghunanan told detectives that he planned this because he thought the couple had money, since they were both employed. He said his intention was to take Saanvi and hide her until he got the ransom.
The report says he carried a kitchen knife with him before he entered Venkata's apartment on October 23. It was during the struggle to snatch the baby that her grandmother got fatally injured.
The grandmother had arrived in the US from India in July 2012 and was scheduled to return home in January 2013.
He said he had stuffed a handkerchief in Saanvi mouth's and placed a bath towel around her head and then put her inside a blue suitcase. He also stole jewellery from the house, some of which he disposed in the Schuylkill River and some at his work place.
The parents of the child emigrated from India in February 2007 and have previously lived in San Antonio Texas, Troy Michigan, and Cleveland Ohio. In June this year, they moved to King of Prussia in Pennsylvania.