Three days after the chopped body parts of a woman were recovered from a flat of a building in Maharashtra's Thane district, the residents of this housing complex say they are still in a state of shock and yet to come to terms with the fact that such a horrific incident occurred right where they live.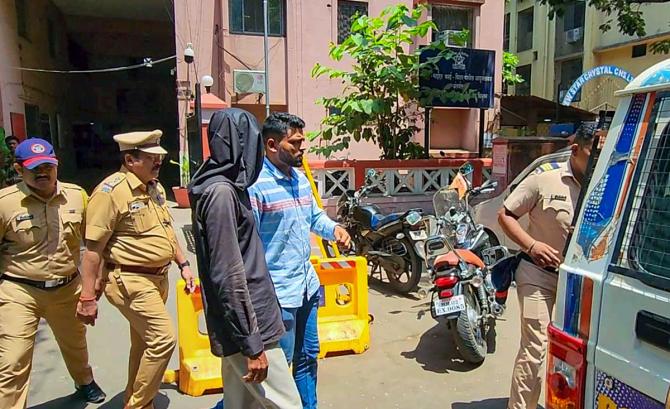 The police on Wednesday recovered the chopped body parts of the 32-year-old victim, Saraswati Vaidya, from the seventh floor flat of Akashdeep building in Mira Road (East), where she resided with her 'live-in' partner Manoj Sane (56). The couple had been living in this rented flat for the last three years.
It is suspected that the murder took place on June 4, but came to light on June 7 after the police broke open the door of the couple's flat after their neighbours complained of foul smell emanating from there.
When the police and some of the neighbours entered the flat during Sane's absence, they were shocked to find some buckets and utensils filled with the chopped body parts. On the kitchen platform, they found boiled human flesh in a pressure cooker and in a few vessels with the woman's hair lying on the floor.
Horrified by the blood-curdling details of the crime that occurred in the building, its residents said they are yet to recover from the shock. An eerie silence pervades the entire housing society premises located in the bustling district adjoining Mumbai.
Talking to reporters, Pratap Aswal, secretary of the society, said "Even now, the residents are in a state of shock and scared of moving around. The foul smell is still experienced in the premises and we are now sanitising the entire complex."
He also said that learning a lesson from this episode, the society management has decided to go for strict verification of the tenants' identity and background.
Sane, who worked at a ration shop, has claimed that Vaidya committed suicide by drinking poison and he only tried to dispose of her body by chopping it up.
The accused, arrested on Thursday, also allegedly told the interrogators he was HIV-positive and never had any physical relationship with Vaidya. He has also told the police that Vaidya was his wife and not live-in partner.