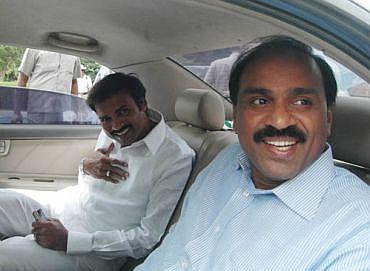 Ballari mining baron and former Karnataka minister G Janardhana Reddy was granted bail by a court in Bengaluru on Wednesday in an alleged Ponzi scheme fraud case.
"It is allowed," Sixth Additional Chief Metropolitan Magistrate V Jagadeesh said in his order on the bail plea of Reddy, who was arrested by the Central Crime Branch of the city police Sunday.
A magistrate's court in Bengaluru had remanded Reddy to judicial custody till Sunday, November 24.
Reddy was arrested following a marathon questioning after he appeared before the CCB, ending his elusive run for three days.
The CCB had been on the look out for Reddy, who was declared absconding by the police last week in connection with a transaction worth crores of rupees allegedly linked to a Ponzi scheme fraud involving hundreds of crores of rupees.
Stepping out of the Parappanaagrahara central jail, Reddy lashed out at Chief Minister H D Kumaraswamy for his plight and alleged that police officers were under pressure to put him in prison though he was in no way involved in the case.
He also accused the chief minister of trying to foist false cases on him but added that he would not succeed in his attempt to implicate him.
Alleging that an atmosphere of fear is being created 'to get rid' of him from Bengaluru, he told Kumaraswamy 'your wish will not get fulfilled'.
Apprehending danger to his life, Reddy said, "Under this government in Karnataka I don't have security. I should be given special security."
On his part, Kumaraswamy said his government has not indulged in 'hate politics' or misused power against Reddy.
"Developments are taking place in the court with regard to this case. Neither I nor my government or officials have indulged in hate politics or misused (power) in this issue. I'm saying this very clearly," he told reporters in Bengaluru.
Reddy has been booked under Indian Penal Code sections 204 (destruction of evidence), 120B (criminal conspiracy) and 420 (cheating), as also under various sections of the Prevention of Money Laundering Act, 2002.
The court had asked the CCB on Tuesday whether there were any complaints against Reddy and whether the charges against him were filed merely on the basis of a statement of an accused.
The defence counsel had questioned the necessity of arresting Reddy when the courts had granted bail to five accused in the case.
The CCB was also on the lookout for Reddy's close aide Ali Khan, who had allegedly struck a Rs 20-crore deal with Syed Ahmed Fareed of the Ambidant Marketing Pvt Ltd, a company accused of involvement in the ponzi scheme, to bail him (Fareed) out of an Enforcement Directorate (ED) probe.
Khan has obtained bail from the Sessions Court.
During investigation, Fareed, who is on bail, had claimed that he had paid the money so as to get help from Reddy to bail him out in connection with the ED probe.