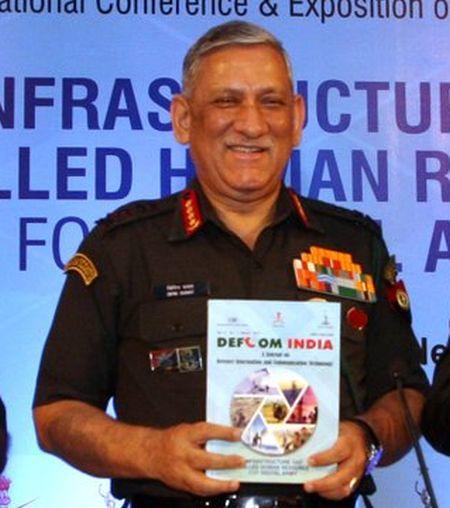 Army Chief General Bipin Rawat on Thursday strongly pitched for fast-tracking procurement of defence systems to enhance India's military capability and said that armed forces must remain ready for warfare along the borders.
General Rawat also said that adequate focus must be on ensuring that "trial procedure" for procurement of military equipment does not linger on for too long, in an indication of his unhappiness over the delay in modernisation of armed forces.
In his address at a conference on military communication, the army chief said that high-tech products must be acquired for the armed forces on a "fast-track" mode so they do not become obsolete on procurement.
"Whatever we have to induct must be done through fast-track procedures as technology becomes obsolete very soon.
"It is important that we are able identify the correct type of technology and equipment that is to be inducted into the armed forces. We have to ensure that the trial procedures do not linger for long," he said.
Allegations of graft in a number of procurement deals and red tape are cited as reasons for delays in acquisition of weapons systems and military hardware, affecting modernisation of the armed forces.
The army chief said that there is a need to modernise communication systems used by the armed forces as future wars are going to be complex and the nature of warfare is rapidly changing.
He said that India will continue to face "sub-conventional or non-traditional" forms of warfare but the armed forces will have to remain prepared for conventional warfare also.
General Rawat said that the army has to keep pace with the "digitised world" and ensure that most of its systems are digitised as early as possible.
Addressing the gathering, Minister of State for Defence Subhash Bhamre said that enhancing digital infrastructure for the army is a top priority for the government.
The initiative for creation of operational information networks and systems should be expedited at all levels, he said, adding a robust, secure, high capacity data network system is an urgent necessity for Operational Commanders.
The minister, however, said that the creation of digital infrastructure for the army will need indigenous solutions and systems from security point of view.
General Rawat said that communication technology for the armed forces must be simple, light-weight and easy to maintain as they will be required for wars on the borders.
Referring to social media, the army chief said that the "adversaries" appeared to be taking advantage of it.
He also talked about the need for having a proper encryption mechanism, both for voice and data, for communication network for the armed forces.
The army chief said the Army Design Bureau has been created to establish an interface between the army and the industry.
Speaking on the occasion, CII's Chandrajit Banerjee pitched for early notification of the strategic partnership for defence production between the government and the defence industry.