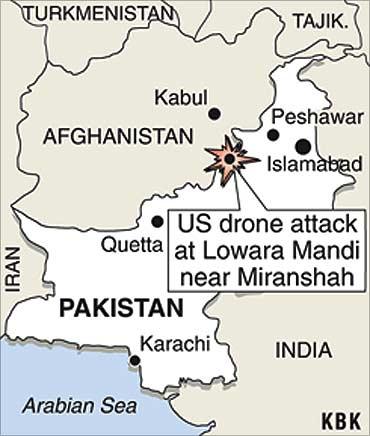 American drones carried out one of their deadliest strikes in Pakistan's troubled northwest firing 18 missiles to hit multiple Taliban targets, including terrorist training camps, hideouts and vehicles killing 15 militants.
Simultaneously Pakistani forces using helicopter gunships blasted Taliban sanctuaries in Orakzai tribal region killing eight militants and wounding five others, security officials said. Five unmanned Predators fired a barrage of Hellfire missiles which struck a terrorist training camp, moving vehicles in Lawara Mandi area of North Waziristan Agency, considered to be a stronghold of Haqqani fighters, Taliban and al-Qaeda.
In the attack that lasted over 20 minutes, 15 militants were killed and the death toll could rise further as militants were still searching the rubble in the compound, an official said. This was the third strike in the same semi-mountainous area and came just a week after US accused Pakistani Taliban of hatching the botched plot to bomb New York's famous Times Square.
Faisal Shahzad, an American citizen of Pakistani origin held for the failed bombing, claimed he was trained in camps in Waziristan.
Local officials told TV networks that the training camp was run by a militant warlord Hafiz Gul Bahadur with close ties to Afghan Taliban.
Though, reports claimed that foreign terrorists were killed in the strike, there was no official word whether there was a high value target among the victims.
US has been targeting north Waziristan in a relentless campaign using the drones. Almost all the 30 attacks in recent months have been in the region where American intelligence suspect that Haqqani network fighters as well as Al-Qaeda commanders are hiding.
As the drones were circling Waziristan, Pakistani forces unleashed helicopters gunship to pound Taliban positions in the volatile Orakzai tribal region, killing eight militants.
The air strikes targeted militant hideouts in Tagha, Saam, Mishti Mela and Kole Bargan areas of Orakzai Agency. Three militant compounds were also destroyed in the air strikes, officials said. Over 600 militants have been killed since troops launched an offensive to flush out militants from the Orakzai Agency.
The figure cannot be independently confirmed as journalists have no access to the conflict zone.