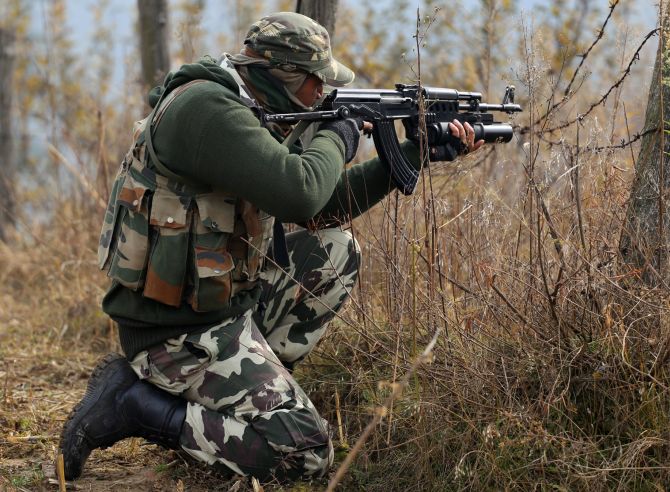 Three heavily-armed militants of Pakistan-based Jaish-e-Mohammad outfit struck at an army camp in Tangdhar in Kashmir on Wednesday, near the Line of Control, triggering a fierce gunfight in which all the attackers and a civilian were killed and a soldier was injured.
The militants targeted the camp of 3/1 Gorkha Rifles from the rear at around 6.15 am, firing indiscriminately in which a civilian was killed and a soldier was injured.
The troops reacted swiftly, preventing the attackers from penetrating any deep into the camp even though a few vehicles caught fire after the initial assault by the militants.
The deceased civilian was working as a generator operator inside the camp.
The militants tried to sneak into the army camp but they were effectively intercepted by the army's Quick Reaction Teams which hemmed the terrorists in a cordon, thus preventing their escape, the defence spokesman said.
"In an alert and swift response to a terrorist strike, the army killed three terrorists in Tangdhar, thus foiling an attempted suicide attack," he said.
An army official said the troops surrounded the militants by 7.30 am and by 10.30 am all the three were killed. Senior Superintendent of Police (Kupwara) Ijaz Ahmad said the three militants had entered the camp.
The arms and ammunitions recovered from hideout include -- three IED cylinders, bottle-shaped IED 500 gms, two AK magazines, 112 rounds of AK, one Chinese grenade, 41 PIKA ammunition, one broken radio set, two Pakistan currency notes (50+10), one Telenor sim card, two IED trigger and two metre wire, he said.
The defence spokesman said operation is in progress to fully sanitise the area.
In a telephonic call to a local news agency, a person claiming to be Jaish spokesman said three of its cadres carried out the attack. Officials said it was not yet clear whether the attackers were a part of an infiltrating group.
-- With inputs from Mukhtar Ahmad