The legendary Russian-origin MiG-21 jets are set to participate for the last time at the annual Air Force Day parade on October 8, with the IAF rolling out the process to phase out the remaining three squadrons of the aircraft.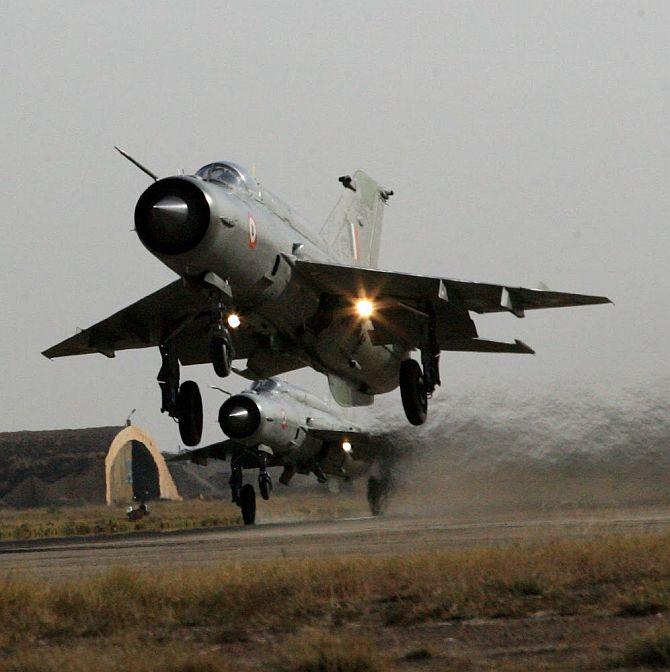 Chief of Air Staff Air Chief Marshal V R Chaudhary, addressing a press conference ahead of the Air Force Day, said on Tuesday that the indigenously-developed Tejas Mark-1A aircraft will replace the MiG-21s from 2025 onwards.
He said a contract to procure 97 Tejas Mark-1A aircraft at a cost of around Rs 1.15 lakh crore will be concluded soon. It will be in addition to the Rs 48,000-crore deal signed with the Hindustan Aeronautics Limited (HAL) in 2021 to procure 83 such jets.
At present, the Indian Air Force (IAF) has three MiG-21 squadrons with a total of around 50 aircraft. A timeline has been finalised to phase out the Mig-21s.
The IAF chief suggested that the remaining squadrons of the MiG-21 jets will be phased out by next year.
"We will replace the MiG-21 squadrons with the LCA Mark-1A.... The induction of the LCA Mark-1A will fill the gap of the outgoing MiG-21s," he said.
Another official said the MiG-21s will participate in the Air Force Day parade for the last time on October 8 in Prayagraj.
He said around 120 aircraft of various types will participate in different formations and displays during the Air Force Day parade.
The recently-inducted C-295 transport aircraft will also be part of the parade.
The MiG-21s were the mainstay of the IAF for a long time.
After its induction in the early 1960s, the IAF procured more than 870 MiG-21 fighters to boost its overall combat prowess.
However, the aircraft has a very poor safety record.
"Air Force Day is a momentous occasion for all air warriors as we reaffirm our sacred pledge to protect the nation's sovereignty and integrity," the IAF chief said.
"We also pause to remember and pay tribute to our predecessors who laid the foundation for the IAF and nurtured it with their sweat and blood to transform it into a potent and combat-ready air force," he added.
"This annual landmark event allows us to assess the achievements of the year gone by and set new targets for the future," Air Chief Marshal Chaudhary said.