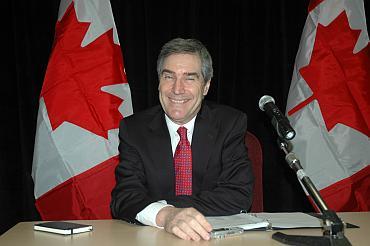 Even as Liberal Leader Michael Ignatieff spoke up against Canada's asbestos exports, he attended a reception hosted in his honor by Montreal businessman Baljit Chadha at his palatial Westmount home, January 27.

Chadha, a Liberal loyalist, has been exporting asbestos to India for some years. His company Balcorp heads the consortium that is seeking to reopen Quebec's Jeffrey Mines. If reopened, a large chunk of the asbestos from this mine will be exported to India.
'Chadha is a great guy, personal friend, great businessman,' Ignatieff was quoted as saying. He reportedly spoke about his party, his leadership and what was happening on the political front in the country, including talks of a general election that can be triggered anytime if the three Opposition parties join hands to vote against the budget, which will soon be introduced in Parliament.
About 60 people are said to have paid $ 500 each to attend the reception. Saying that "it was a private reception," Chadha, who has hosted receptions at his home for then prime ministers Jean Chretien and  Paul Martin and Quebec Premier Jean Charest, refused to reveal how much money was raised at the event.