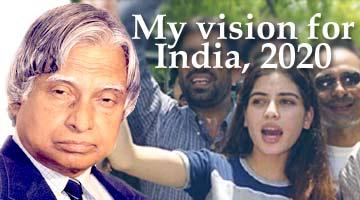 On the occasion of President A P J Abdul Kalam's 73rd birthday, rediff.com invited readers' views on how the President's vision to make India a superpower by the year 2020 can be achieved. Here are some of the best received so far...  
Reform the youth
Wish you a very happy birthday sir!
Rediff.com has invited people to write to you to help you realise your dream to make India a superpower by 2020.
I thought I would use this opportunity to pour my feelings about the state that India is in right now.
A few questions and answers emerge in my mind whenever I think about our country:
Do we have money? Yes we do.
Do we have power? Yes we do.
Do we have knowledge? Yes we do.
Do we have resources in every sense of the word? Yes we do.
Do we have suffering? Yes we do.
Do we have fights and killings? Yes we do.
Are men getting avaricious day by day? Yes they are.
Do children, women and the aged still feel insecure? Yes they do.
So what is the conclusion?
People are becoming selfish. They no longer want to think of their country. All they want is to acquire lots of money by any means. People want to enjoy life, even at the expense of others.
Professionals who have gone abroad don't want to come back to India. Highly paid professionals in India want to earn, save money and find different ways to avoid income tax. They feel paying tax is akin to being robbed. Government offices are busy competing with private offices for salary hikes. There is no sense of oneness.
Today's young people are exposed to sex, violence, drinks, drugs and money. If we believe these young people are the country's future, we have to think again.
The key lies in making the youth more aware of its roots. If you can make the youth think about the country more and not about itself, India will become a superpower. And we needn't wait till 2020.
Padmaja Rajesh (padmaja_rajesh@rediffmail.com)
Nehru's dream...
Although a Pakistani, I feel that Nehru's India can be truly great if his words that dams and steel mills are the temples of modern India are heeded.Only a progressive and economically vibrant India can live in peace with its neighbours.
Shahid Afzal (saf011bc@yahoo.com)
Transparency is the key
I would like to suggest to the President that the government create a Web site to inform people about the progress in the public works activities (road/rail/airport development etc). This will help a person living in the northeast or in the Andaman to monitor the progress being made on a regular basis. This will also bring in transparency. Such a Web site will empower the people in the sense that they would be able to question the government over cost overruns, delays or suspected nepotism. The roots of corruption, which is eating India internally, lie in these factors and I would not hesitate to call these the biggest enemy of any civilized society.
S Sathyanarayan (sathyanarayans@rediffmail.com)
Revamp industrial sector
I wish the President a very happy 73rd birthday.
Here are my suggestions to realise his vision.
It will be useful to discuss the issues facing the country statistically and then solve them using the best methods possible. In my view, the industrial sector needs to be taken into consideration first.
The various industries need to be listed out first. Then, a 'current performance index' needs to be drawn for each section. The index should be calculated on the basis of customer satisfaction, employees, suppliers and its governing bodies.
Once we know the performance of each sector with respect to the above criteria, we can then compare the results with the best in the world and benchmark their values and look to excel.
The government should also prepare an action plan containing the details of the resources required to achieve the benchmark. And, we better get going fast if we want to reach anywhere.
A Murali Krishnan (amk_kmk@rediffmail.com)