A diplomat-turned-politician and Congress' Dalit face, Opposition's Presidential candidate Meira Kumar had a steady rise in echelons of power since she made her electoral debut in the mid-eighties.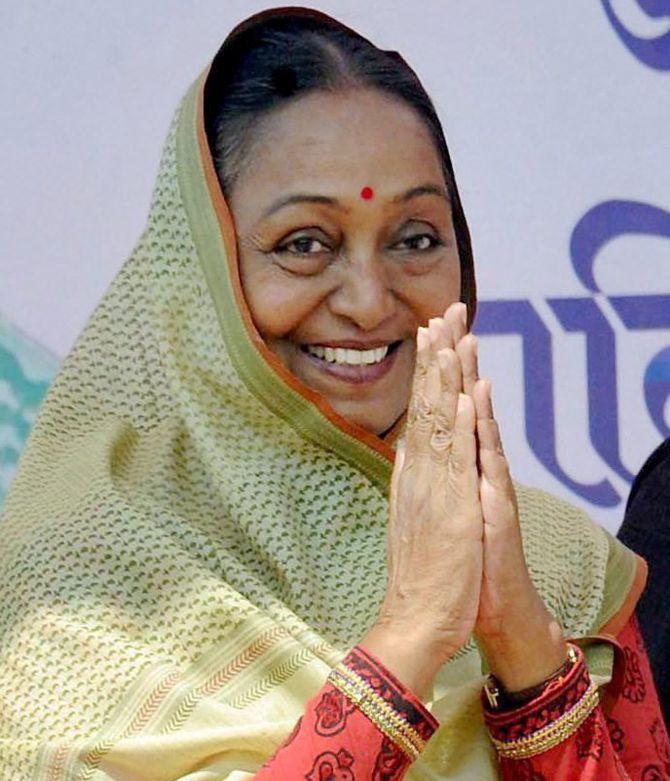 Daughter of former deputy prime minister late Jagjivan Ram, Kumar, 72, was also the first woman to occupy the high office of the Lok Sabha Speaker between 2009 and 2014 during the United Progressive Alliance's second term.
The career of Kumar, who is soft-spoken, in the rough and tumble of politics began when she quit her cushy Indian Foreign Service job and decided to fight the Lok Sabha polls in 1985, a year before her father's death.
She was elected to Lok Sabha for the first time from Bijnor in Uttar Pradesh in 1985, defeating top Dalit leaders Mayawati and Ram Vilas Paswan.
From being a foreign service officer to a five-term MP and then a Cabinet minister, Kumar has traversed a long way and a varied course that came in handy to her in running the Lok Sabha that often throws itself into scenes of tumult. She holds an MA and LLB degrees alongwith an advanced diploma in Spanish.
Kumar became an MP for the second time in 1996 and again in 1998 from Delhi's Karol Bagh constituency but lost her seat in 1999 when National Democratic Alliance returned to power. She was re-elected in 2004 with a huge margin from Sasaram in Bihar, the constituency of her father, and became an MP for the fifth time in 2009.
In between, she had quit the Congress for two years from 2000 citing differences with the party leadership. She rejoined the party in 2002.
In UPA's first term, she was inducted into the Union Cabinet. She handled the Social Justice and Empowerment and Water Resources portfolios.
Subsequently, after UPA's return to power in 2009, she was elected unupposed as the first woman speaker of the Lok Sabha, where she became popular for her polite interventions, the most popular of them being "baith jaiye" (please have your seat).
Kumar described her appointment as the Lok Sabha speaker as a "historic moment" in India's politics. She held the post from 2009 to 2014.
Armed with a degree in law and a masters in English, she joined the IFS in 1973 and served in the embassies in Spain, the United Kingdom and Mauritius. She also served as a member of the India-Mauritius Joint Commission.
In the party organisation, she rose steadily from being an All India Congress Committee general secretary for two years from 1990 and again between 1996-1998.
She became a member of the Congress Working Committee in 1990 and continued for ten years till 2000. After a gap of two years, she was reinducted in the CWC in 2002 and remained its member till 2004.
As an MP, she served, among other positions, as a member of the Consultative Commitee attached to the External Affairs Ministry, Public Accounts Committee, Committee on Home Affairs and its Sub-Committee on Personnel Policy of Central Para-Military Forces and Joint Committee on Empowerment of Women. She was also a member of Committees on Food and Consumer Affairs and Environment and Forests.
Born in Bihar's Arrah district on March 31, 1945, Kumar studied in Indraprastha College and Miranda House in Delhi University. She holds medals for rifle shooting too.
Armed with a law degree, Kumar became a member of the Supreme Court Bar Association in 1980. Married to Manjul Kumar, a Supreme Court lawyer, the couple has one son and two daughters.
Interestingly, Babu Jagjivan Ram had rebelled against Indira Gandhi but her son Rajiv insisted on Meira quitting her cushy diplomatic job to join the Congress.
Kumar is an avid follower of Indian classical music and is known to be a voracious reader.
Photograph: PTI Photo