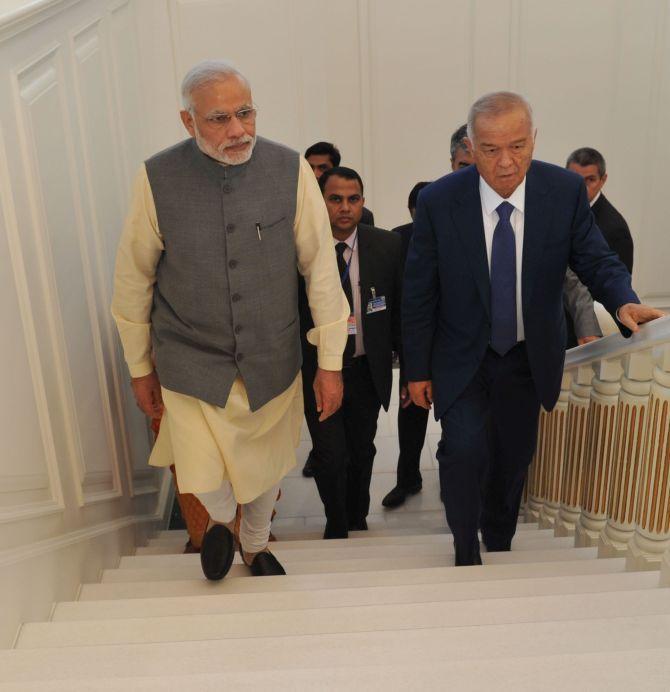 Brutal and ruthless, with terrible human rights records, these autocrats will welcome Narendra Modi to their realm this coming week.
Prime Minister Narendra Modi, who is on a visit to five Central Asian republics, will visit two 'Stans' -- as the former Soviet republics in Central Asia are known -- visiting two countries before his visit to Ufa, Russia, for the BRICS and Shanghai Cooperation Organisation summits and the three remaining ones after.
The prime minister's visit began in Tashkent, Uzbekistan, on Monday, July 6, from where he will fly to Kazakhstan on Tuesday, July 7. He will travel to Russia on July 8, before flying to Turkmenistan on July 10, Kyrgyzstan on July 11 and Tajikistan on July 12.
Central Asia has a reputation for volatility since the collapse of the Soviet Union in 1991.
From a man intent on promoting his personality cult to a ruthless authoritarian who violently strikes down dissenters, the 'Stans' has seen the endurance of several dictatorships.
Rediff.com introduces you to the autocrats who Narendra Modi will meet.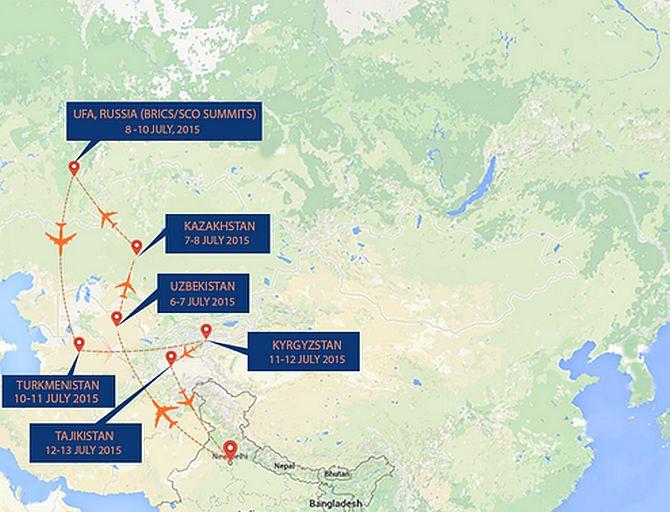 Gurbanguly Berdimuhamedow, President of Turkmenistan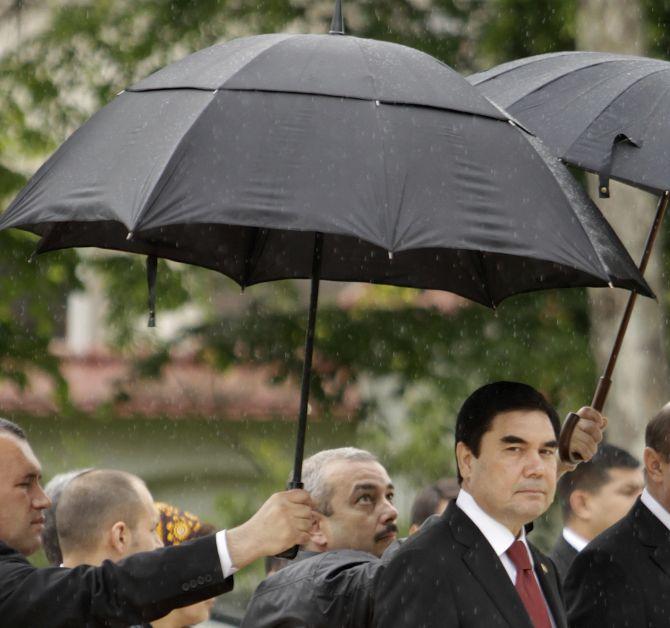 Image: Turkmenistan President Gurbanguly Berdimuhamedow reviews an honour guard in Bucharest. Photograph: Bogdan Cristel/Reuters
A dentist turned politician, Gurbanguly Berdymukhamedov has retained unchallenged power since 2006, making Turkmenistan one of the world's most repressive countries.
Berdymukhammedov was named president following Saparmurad Niyazov's death in December 2006.
The president, his relatives, and associates enjoy unlimited power and total control over all aspects of public life in Turkmenistan.
The country is virtually closed to independent scrutiny, and media and religious freedoms are subject to draconian restrictions. The number of journalists and human rights activists in prison or psychiatric hospitals is unknown. The government continues to use imprisonment as a tool for political retaliation.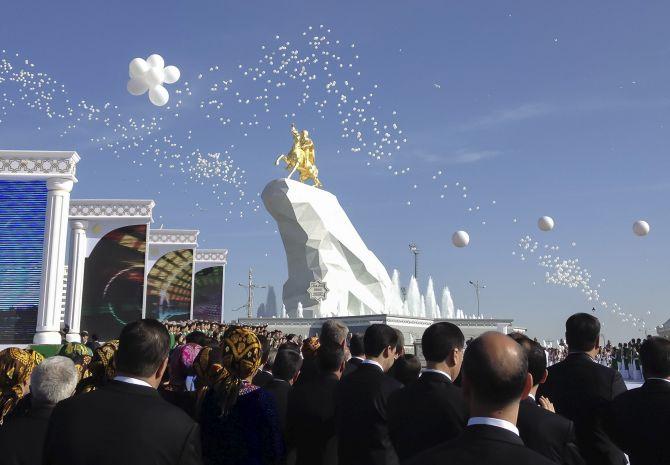 Image: People gather outside a monument to President Gurbanguly Berdymukhamedov during its inauguration ceremony in Ashgabat, Turkmenistan. Photograph: Marat Gurt/Reuters
On February 13, 2012, Berdymukhamedov was 'elected' to a second term as president amid widespread criticism that the election was marred by fraud.
Berdymukhamedov appears more intent on promoting his personality cult than allowing his critics to express themselves, according to Reporters Without Borders.
Emomali Rahmon, President of Tajikistan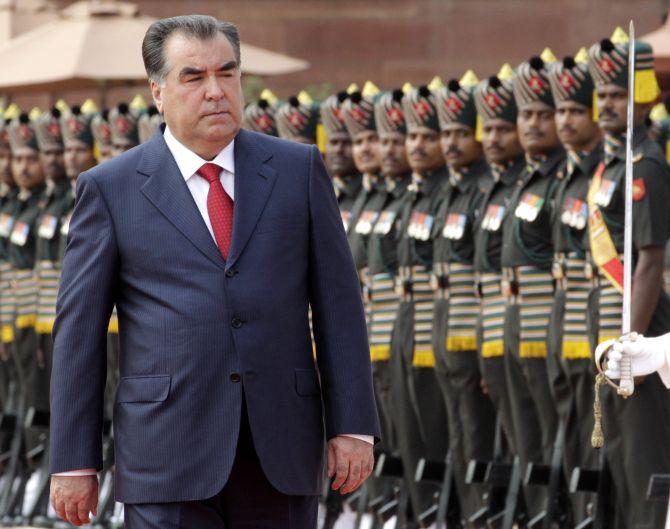 Image: Tajikistan President Emomali Rahmon inspects a guard of honour at Rashtrapati Bhavan. Photograph: B Mathur/Reuters
The small Central Asian State of Tajikistan -- which experts describe as poor and lawless, and a conduit for opium from neighbouring Afghanistan -- has been governed by Emomali Rahmon since 1992.
During the lead-up to the 2013 election, authorities widened a crackdown on freedom of expression, imprisoned Opposition leaders, shut down a leading nongovernmental organisation, and stepped up efforts to extradite political opponents from abroad.
Rahmon's government has enforced a repressive law on religion, restricting media freedom, and pressuring civil society groups.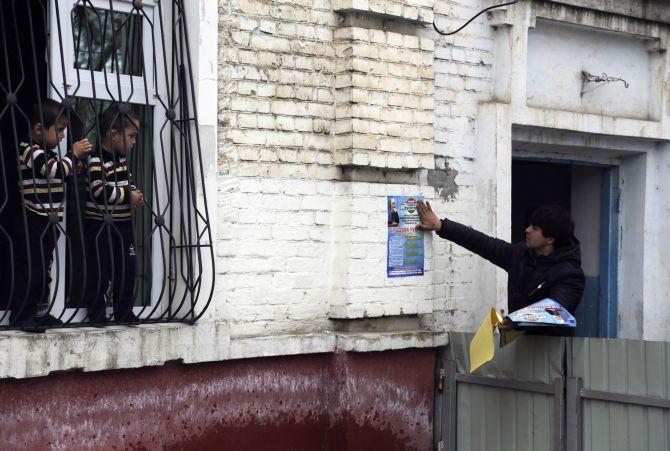 Image: Children watch a supporter of the Islamic Renaissance Party of Tajikistan post a campaign poster on a wall in the Tajik capital, Dushanbe. Photograph: Nozim Kalandarov/Reuters
His government often uses torture to coerce confessions and the right to counsel is routinely denied in pretrial custody.
In a Wikileaks cable, one ambassador said Rahmon and his family control the country's major businesses, including the largest bank, and play hardball to protect their business interests, no matter the cost to the economy.
Islam Karimov, President of Uzbekistan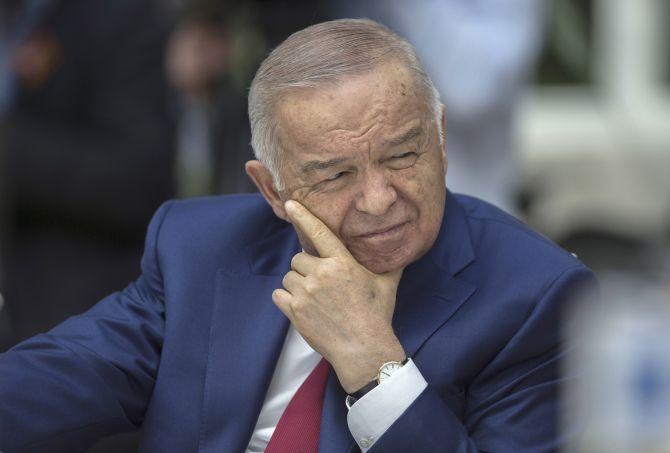 Image: Uzbekistan President Islam Karimov attends an informal Commonwealth of Independent States summit on the 70th anniversary of the end of World War II at the Kremlin in Moscow. Photograph: Reuters
Islam Karimov takes a ruthlessly authoritarian approach to all forms of opposition, using the threat of Islamic militancy to justify the absence of civil rights.
The first president of Uzbekistan -- one of the Central Asian nations that emerged out of the wreckage of the Soviet Union in 1991 -- has been in office since 1990.
The authoritarian leader won re-election in March in a predictable landslide that will see him in office for another five years.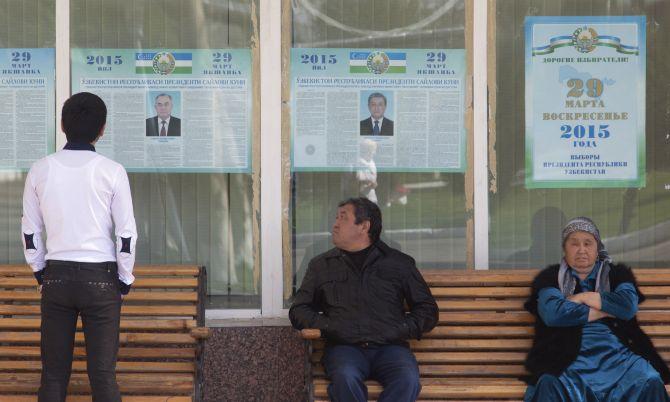 Image: Election posters of presidential candidates in Tashkent. Photograph: Reuters
Analysts have said the ageing Karimov is trying to postpone a power transition that has recently been complicated by ugly family feuds.
Human rights groups have lambasted Karimov's record of repression. The Paris-based International Federation for Human Rights has listed numerous rights violations including child slave labour in the country's large cotton industry, forced sterilisation of women, and arbitrary detention and torture.
Human Rights Watch said Karimov has locked up thousands of critics, including activists, journalists, artists and clerics.
Almazbek Atambayev, President of Kyrgyzstan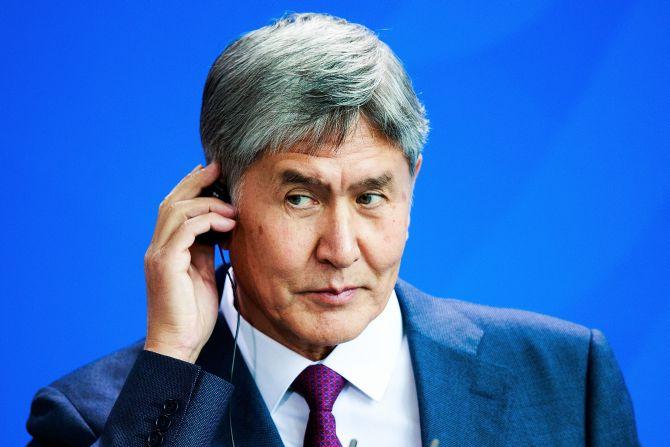 Image: Kyrgyzstanstan President Almazbek Atambayev attends a press conference with German Chancellor Angela Merkel in Berlin. Photograph: Carsten Koall/Getty Images
Previously Kyrgystan's prime minister (March to November 2007; December 2010 to December 2011) Almazbek Atambayev has been president since December 2011. He also served as chairman of the Social Democratic Party of Kyrgyzstan from July 1999 to September 2011.
The mountainous country of 5.7 million people experienced traumatic ethnic violence in June 2010. Hundreds were killed, thousands injured. The failure to provide justice for the victims of this violence or to hold those responsible to account is major unfinished business.
Nursultan Nazarbayev, President of Kazakhstan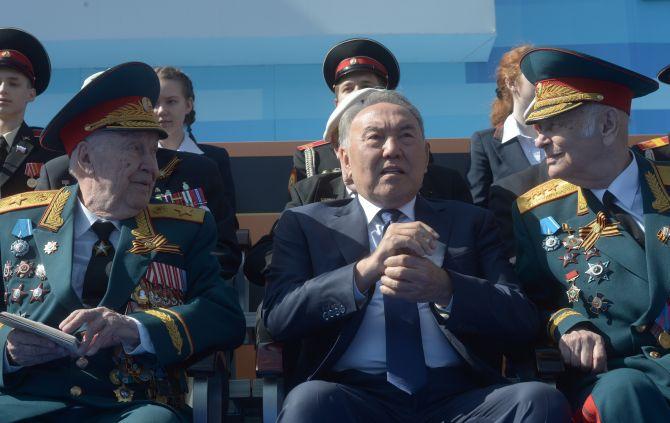 Image: Kazakhstan President Nursultan Nazarbayev attend a military parade to mark the 70th anniversary of the end of World War II in Moscow. Photograph: Getty Images
Nursultan Nazarbayev has been his country's leader since 1989, when he was named first secretary of the Communist Party of then Kazakh Soviet Socialist Republic. He was elected the nation's first president following its independence from the Soviet Union in December 1991.
In April, Nazarbayev, who turned 75 on Monday, July 6, was re-elected with almost 98 per cent of the vote.
Human Rights Watch says Nazarbayev restricts freedom of assembly, speech and religion, and torture remains a serious problem. In 2014, authorities shut newspapers, jailed or fined dozens of people after peaceful but unsanctioned protests.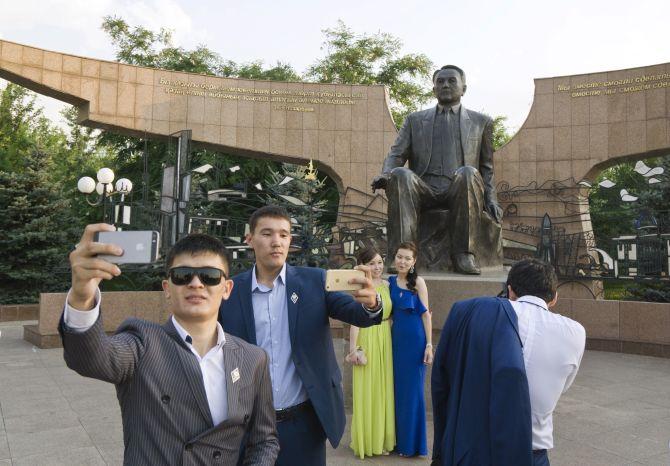 Image: Graduates pose in front of a statue of Kazakh President Nursultan Nazarbayev at the First President's Park in Almaty, Kazakhstan. Photograph: Shamil Zhumatov/Reuters
Kazakhstan has a poor human rights record that deteriorated markedly after violent clashes in December 2011, when police killed 12 people at the site of an extended oil workers' strike.