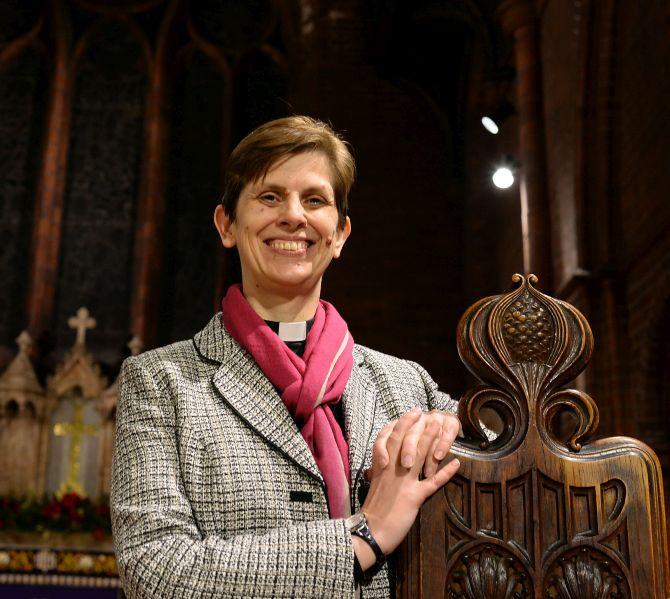 The Church of England on Monday ended centuries of male domination with the consecration of its first woman bishop who described it as a "profound and remarkable moment".
Reverend Libby Lane was ordained as the new Bishop of Stockport at York Minister, one of the largest cathedrals in northern Europe, amid opposition from traditionalists.
The 48-year-old described it as a "profound and remarkable moment" after the Church had formally adopted legislation in November 2014 to allow women bishops.
The consecration, or the process of being made holy, involved a two-hour service led by the Archbishop of York, Dr John Sentamu, during which he and other bishops lay their hands on Lane and pray.
Sentamu tweeted that he was "thrilled" to be taking part.
"It is a remarkable thing that this happens to me, and people have been very supportive of me personally, but actually this is about a moment in the church's history," Lane said.
"If my appointment encourages a single young girl to lift her eyes up a bit and to realise that she has capacity and potential, and that those around her don't need to dictate what is possible, then I would be really honoured," the new bishop added.
Her consecration comes more than 20 years after women became priests in the Church of England. And it comes after the general synod gave the final seal of approval to the legislation on women bishops following its passage through Parliament last year.
After the change was approved, the Archbishop of Canterbury Justin Welby said that the Church was entering a "completely new phase of our existence".
But divisions still remain between Anglicans who feel the change is consistent with their faith and traditionalists who disagree.
Opponents of women bishops include some Church of England evangelicals who believe scripture requires male headship in the Church.
Image: Reverend Libby Lane smiles for a photograph after her name was announced to be the Church of England's first female bishop. Photograph: Nigel Roddis/Getty Images