A medical team from India reached Italy on Friday to test stranded Indian nationals for the coronavirus so that they can be brought back.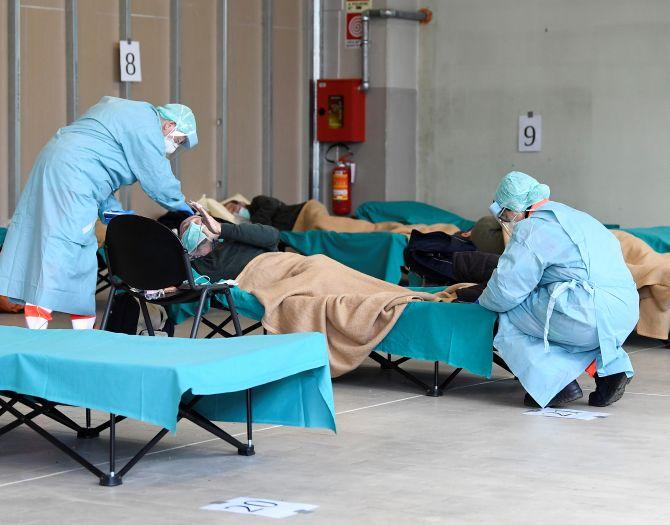 The death toll from COVID-19 jumped over 5,000 on Friday as the number of cases around the world topped 1,34,000.
Italy has more than 15,000 cases and over 1,000 deaths -- the most outside of China, the epicentre of the disease.
'Pleasure to welcome the medical team at the Embassy in Rome. Gearing up for the testing which starts this afternoon and will proceed through the weekend,' the Indian Embassy in Rome tweeted.
The Indian government on Wednesday said it was focusing on bringing back Indians stranded in coronavirus-hit Italy and Iran after screening them.
The Indian mission in Rome said it was working actively with Indian ministries and local authorities in Italy to address COVID19 situation being faced by stranded Indians.
The mission said it was in continuous touch with stranded Indians in Rome, communicating and providing regular updates to students, working with community leaders to provide material support and food.
'In view of increasing number of calls received by the two Embassy hotlines, two more lines have been added for convenience of Indian nationals requiring assistance,' it said.
The embassy officials on Thursday met Indian students stranded at Rome airport and briefed them about measures being taken by the Indian government to help them.
The mission gave following helpline numbers: +39 3201749773 / +39 3248390031 / +39 3316142085 / +39 3311928713.
As per the Italian official estimates, more than 1,60,000 Indian nationals live in Italy.
Indian team in Male to help Maldivian authorities tackle coronavirus
A 14-member Indian composite medical relief team arrived in Male on Friday to support the Maldivian health authorities in preventing the spread of the coronavirus.
In the wake of the COVID-19 outbreak in China's Wuhan, India had evacuated nine Maldivians residing in the city, with the first seven evacuated on February 2, and the rest on February 27.
The Maldivians were quarantined for 14 days in New Delihi and were safely flown back into Maldives.
'The 14-member composite medical relief team with members from all corners of India has arrived in Male to support and assist the Maldivian health authorities in tackling the #Covid_19 situation,' the Indian High Commission in Male tweeted.
Maldivian Foreign Affairs Minister Abdulla Shahid thanked Prime Minister Narendra Modi for sending the team.
'A very warm welcome to the Indian team of doctors, paramedics, specialists and technicians. The team will be working with our health specialists in combating this global challenge #COVID19. Thank you PM @narendramodi,' Shahid tweeted.
Currently there are eight confirmed cases of the coronavirus in the Maldives, with four foreign nationals from Kuredu Island Resort, and two from Sandies Bathala and Kuramathi Maldives each.
Indian scientists in Iran not been able to establish makeshift lab
Indian scientists who are stationed in Iran to establish a makeshift laboratory for testing stranded Indians for novel coronavirus have not been given permission by authorities to do so citing security reasons, official sources said.
Swab samples of around 1,200 Indians have been brought to India from Iran so far for carrying out laboratory tests and check whether they are infected with the deadly virus.
Four scientists from ICMR-NIV, Pune are stationed in Tehran and are collecting the samples.
"They said they could not set up a makeshift lab facility as authorities there said they will not be able to provide them security. They are still stationed in Tehran and are collecting swab samples," a source said.
58 Indians were brought back home from coronavirus-hit Iran in a military transport aircraft of the Indian Air Force (IAF) in the first batch, while the second batch of 44 Indian pilgrims arrived from Iran's Qom on Friday.
An Iran Air flight carrying Indian pilgrims stranded in coronavirus-hit Iran landed at the airport in Mumbai on Friday afternoon, an official said.
Iran is one of the worst-affected countries by the coronavirus outbreak and the government has been working on plans to bring back the Indians stranded there.
India is preparing to set up a makeshift laboratory in Iran to test 1,200 of its citizens stuck in the country before evacuating them, officials said on Wednesday.
Those stranded in Iran are mostly students and pilgrims. Also, there are 1,000 Indian fishermen who are stranded in Iran.